While the first four games of his sophomore year as head of the program went as well as he had hoped, Kansas soccer coach Lance Leipold recalls a time when he felt a little resentful of the challenge he faced was impressed.
That happened during the 2021 season when the Jayhawks arrived for their game against the Cyclones at Jack Trice Stadium in Ames, Iowa last October.
KU lost that game 59-7, but as Leipold recalled this week, the disparity showed up long before the teams took the field.
"That was one of the biggest games (where) they looked very different than us," he said Tuesday at his weekly press conference announcing Saturday's 2:30 p.m. matchup against the Cyclones in Lawrence. "Also, when we drove to their facilities, (I remember) how different it was. That was an eye-opening, humbling 30 hours."
photo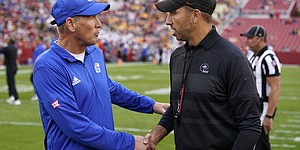 The State of Iowa has done a lot in recent years to renovate its football facilities and rebuild its football program, and the Cyclones have reaped the fruits of that labor. Under the stewardship of head coach Matt Campbell, Iowa State averaged seven wins per season during Campbell's first six years at Ames, including a 9-3 mark in the 2020 season.
They're running a streak of five straight bowl games and starting this season 3-1. But Leipold has always viewed ISU as a sort of model for what could be done in Kansas and has spoken openly about it since arriving in Lawrence.
Leipold credited Campbell's ability to establish a clear culture and capitalize on player development and retention year after year as "all the things you strive for". And he said the ISU's recent success in those areas – and others – has been a big part of why the Cyclones have become a Big 12 contender.
"When I speak about my respect for Matt Campbell and the staff and the program and what they've done, you can see that they didn't have to go out and add a lot to move in the (right) direction," Leipold said.
He added that along with the gleaming facilities and products on the field, it "helped set my expectations for what I need to do here as a head football coach."
Few expected Leipold to make such great strides so quickly in his quest to bring Kansas back to prominence. But now that he has, the goal, he said, is to maintain it and move on as if nothing has changed.
That might be easier said than done. With each win, the spotlight on Kansas football grew brighter. ESPN's College Gameday was in town this week to film a special segment on KU for its Saturday preview show, and there was all sorts of local and national talk this week about how Kansas ranked 26th in the Associated Press poll is , deserves to be ranked in the top 25.
Leipold hears all of this. His players too. But her goal is to block out the noise and stay focused on the work that needs to get done. Leipold said he never thought or worried much about placements and awards other than appreciating them when they arrive.
"National recognition, recognition as a whole, is something that we obviously strive for, but we don't control it," he said Tuesday. "If you spend a lot of time worrying about whether or not you should be (in the rankings) you probably won't be staying (in that position) for long anyway. As far as chatting goes, I'm not in that group text."
KU quarterback Jalon Daniels, who received as much individual attention for KU's 4-0 start as anyone not named Leipold, said the players followed their head coach's lead on the issue.
"When it first came out, we were just like, 'Okay. Looks like we need to do more,'" Daniels said of this week's poll. "It's not something we really think about (or think about) in the dressing room. It just means we have to keep doing what we're doing. keep getting better Keep trying to win games."
The idea of ​​sticking with the process is exactly what coaches have been emphasizing since Day 1, and Leipold hopes that even with increased attention and new distractions, the Jayhawks will be able to focus on the work that needs to be done .
"I want to keep this team in a good frame of mind and stay focused on Iowa State," Leipold said Tuesday. "We left a lot of things out there on Saturday (against Duke) that we need to get better at. These things accumulate over time."
Daniels added, when asked if he had allowed himself to think about what it might look like here if KU continues to win: "I'm not really looking too far into the future. I like to play week after week, game after game, day after day, especially in my prep. I'm just confident that we're able to keep doing what we're doing, keeping the same mindset and mentality throughout the season."