at RadioDays Asia Senior Digital Producer of All In Media (AIM) last month. Richard Phelps shared insights from the company's extensive work on radio apps around the world.
According to data from Edison Research, station apps have now overtaken website streaming as the number one source for online listening.
"Station apps are loved by your P1 audience. They're using station apps more than ever before." says Phelps. They've overtaken broadcaster websites, third-party apps, and smart speakers.
"Where you go, they go. Broadcaster apps are always in the hands of your audience thanks to their smartphone…
"Some of my clients report that most of their podcast consumption also comes from their Sender app."
There are many good apps out there, but some things make a radio app great, says Phelps: "A great app takes the complexity out of the equation, it's intuitive and easy to use… Measure effectively, collect only meaningful audience data that will help you achieve your goals."
AIM found that the most important features in radio apps that increase consumption are:
live streams. Not everyone has a radio these days.
Podcasts and the ability to favorite or subscribe to them
Notifications to alert users to new episodes of their favorite podcasts
Sign up, they allow stations to personalize app experiences, resulting in more time listening
Ability for the app to connect to their favorite Cast-enabled devices and in-car via Android Auto and Apple CarPlay
Users love the convenience of being able to hear the latest news broadcasts easily by touching the news feature in the app
Dynamic linking allows users to share stations, podcasts or episodes with friends, expanding content and increasing usage
Broadcasters using apps with these capabilities are finding that live radio listening is growing, new, relatable listening habits are emerging, and apps are a great way to launch and promote new podcasts. He also warns that broadcasters shouldn't try to include every possible feature, but should keep the app as simple as possible and only integrate the most commonly used features.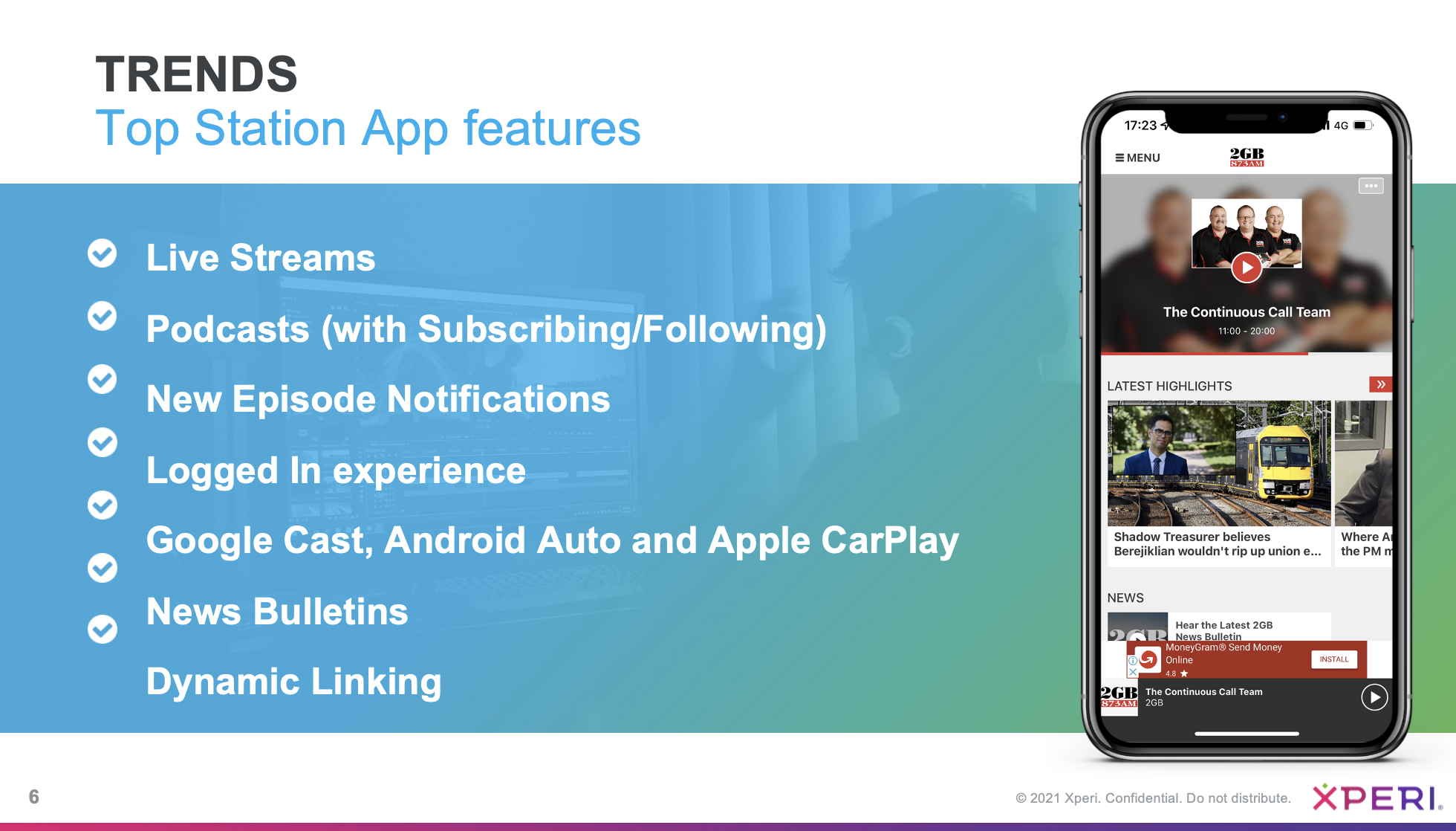 A changing trend observed by AIM is that listeners are no longer pre-downloading podcasts, just expecting to tap and listen right away in countries with cheap and reliable data plans. Noticing this trend, many companies are removing the download feature from their broadcaster apps.
AIM is an Xperi company. Since 2007, the company has developed apps for over 3,000 broadcasters and provided mobile and broadcast solutions to more than 8,500 broadcasters around the world.