Denmark recorded a historic victory in the FEI Dressage Nations Cup at the CHIO Aachen (Germany) on Saturday, securing their first ever victory at the event. Nanna Skodborg Merrald (Atterupgaards Orthilia), Daniel Bachmann Andersen (Marshall-Bell), Carina Cassøe Krüth (Heiline's Danciera) and Cathrine Dufour (Vamos Amigos) triumphed over the home nation in the penultimate event of the 2022 FEI Dressage Nations Cup series.
The Dutta Corp US Dressage Team finished a disappointing seventh out of eight with 427.04 points.
Denmark achieved an overall winners count of 459,421 points after counting the top three results from the Grand Prix and the Grand Prix Special. Germany was left with 454,903 points after team anchor and seven-time Olympic champion Isabell Werth (DSP Quantaz) was eliminated in the special when blood was found in her horse's mouth. Sweden was third (440.499 points).
"It's just really fun to build [team] together. It was an annoying way to end up winning with Isabell, but I still think we did a great job today. Everyone contributed," said Dufour.
April FEI Dressage World Cup Final runners-up Dufour and Vamos Amigos anchored the group with career best results in both Grand Prix (81.54%) and Grand Prix Special (80.06%). The pair was the only combination to score over 80%.
"I'm super proud of [Vamos Amigos]. He did a great job in the ring again today [in the Grand Prix Special]' said Dufour. "I had maybe five minutes too much warm-up time, so I had a little less power compared to the Grand Prix when it was super, super electric. He is 10 years old and does a great job."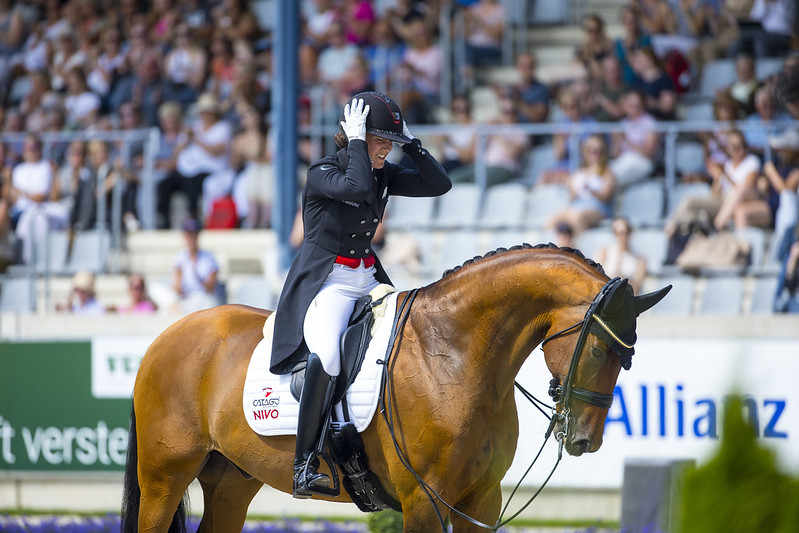 Bachmann wasn't expecting to be in Aachen after Marshall-Bell was sold to U25 rider Nicole Ahorner of Austria earlier this year, but a meaningful summer gathering has ensued in the hope that horse and rider will join Denmark's team for the upcoming FEI World Championships in Herning (Denmark). After finishing 11th in the Grand Prix (73.69%), the pair rose in the standings with a Grand Prix Special test of 75.23%.
"That was our last selection [event] for our team for [the World Championships]. I was very pleased. It was a big day for me," said Bachmann. "I rode [Marshall-Bell] eight times before he came here. It was a bit stressful but still a good experience."
With their podium finish, Sweden extended their lead in the FEI Dressage Nations Cup series by 41 points. The Netherlands move up to second place with 24 points, Spain is in third place (20 points). The series will end in Falsterbo, Sweden, July 14-17.
US disappointment
The US team finished fifth after Friday's Grand Prix, Steffen Peters and his partner Suppenkasper at the Tokyo Olympics finished seventh individually, Charlotte Jorst finished 22nd with Kastel's Nintendo, Katie Duerrhammer and Quartet finished 23rd. place and Ben Ebeling 35th place with Indeed.
But an unfortunate incident for Duerrhammer in tonight's Grand Prix Special resulted in the pair being eliminated due to blood in the horse's mouth. In a post on their Facebook page, Duerrhammer said: "I'm so proud of Quartet that he put on a great Grand Prix Special today, flawless until our last long trot where unfortunately he stumbled and crashed into the bottom corner of his lower lip bite. We still finished with 71.3% but unfortunately there was a bit of blood from lip biting on the bit check. While I'm very sorry and disappointed for my teammates that my score didn't count, that doesn't take away from how proud I am of this amazing little horse that could. We both enjoyed every minute of our Aachen debut and are so thankful for everyone who made this dream possible for us!"
In addition to Duerrhammer's elimination, the team addressed Friday's surprise announcement that Ebeling faces a civil sexual assault lawsuit that stemmed from an alleged 2017 incident at the Ebeling family's training center in California. However, he was not suspended by the US Center for SafeSport and was therefore eligible to compete, according to a statement from the US Equestrian Federation.
Ebeling improved his score from Friday's Grand Prix with 64.34%. Today's effort on Indeed returned 68.06%.
Jorst and Kastel's Nintendo, their own 19-year-old Dutch Warmblood stallion, finished third in order and received 68.298% from the jury. The pair's test had some errors and Jorst was called out by the judges for an error in the test.
As an anchor pair, Peters and Suppenkasper, a 14-year-old Dutch Warmblood gelding owned by Akiko Yamazaki, scored 72.404%. The pair overcame a few faults in their trot work and a tempis to finish 13thth place overall.
"While our goal is always to be there in these big CDIO5* competitions in Europe and to be as competitive as possible, this week also gave us the opportunity to learn which will serve us very well in the future," said Chief of Staff George Williams . "We have seen some expensive mistakes that have affected our scores but leading up to the FEI Dressage World Championships later this summer it is important that we can see where and how we can improve in the coming weeks, which is one of the most important learnings from this competition as we continue to prepare for selection for the championship this summer."
In another dressage event in Aachen today, Californian young rider Christian Simonson put a smile on the face of US dressage fans when he took bronze in the FEI Young Riders Freestyle with a score of 74.93% aboard Son of a Lady, an 11- year-old Danish Warmblood, owned by Christina Morgan and Clifton Simonson. Spaniard Sergio Moron Basoco and Farnham L won the class with 79.13%.
And to wrap up Saturday under the lights, Sarah Tubman, of Wellington, Fla., and Summit Farm's First Apple, a 12-year-old Dutch Warmblood stallion (Vivaldi-Oogappel, TCN Partout), placed sixth in the CDI4* Freestyle class and earned 74 .56%. The winner was Dufour on Bohemian with a score of 84.12%.
You can find all the results, schedules and start lists on the CHIO Aachen website.
For the entire CHIO Aachen coverage in the Chronicle, Click here.
tags: 2022 CHIO Aachen, Ben Ebeling, Cathrine Dufour, Charlotte Jorst, CHIO Aachen, Dressage Nations Cup, Indeed, Kastel's Nintendo, Katie Dürrhammer, Quartet, Steffen Peters, Suppenkasper, Vamos Amigos