The oyster diver
Lotta Klemming, diver at Klemmings Ostron, Grebbestad, Sweden
Our high season is from November to March. At the beginning of December, the water temperature is 4 ° C and quickly drops to zero. If we're unlucky, the ice keeps us from diving.
Oyster picking is very active. I spend about three hours at a time in the water. My gear weighs 40kg and my oyster basket will end up weighing the same. I fish wild oysters – Ostrea edulis (flat oysters) and Magallana gigas (Pacific oysters). We deliver them to restaurants throughout Scandinavia. If there are many in one place, I can pick them quickly, but I freeze more easily since I swim less.
I can't wear too many layers as it makes moving difficult. I start with thin wool stockings and add two pairs of wool socks and a pair of angora gloves handmade by a local woman. Next I put on a battery powered heated undersuit from a company called Santi. On top of that comes my Ursuit dry suit. A lot of people in the military wear them. They are made from Cordura (a type of polyester) which is very durable, which I need because oyster diving is rough – I'm on my knees a lot. Finally I put on a full head mask and waterproof gloves. My body never gets wet in water.
My biggest problem is dry skin. I use a serum and face cream from Edulis Cosmetics. It contains oyster extract and is really soothing and moisturizing after being in the water. On my lips I use a balm from the Nordic brand Decubal.
After diving, we quickly take the boat to the boathouse. There my father makes us strong coffee, we eat sandwiches and I hug my dog ​​to warm up. I have been working with my father for eight years. We're very similar: when we're not diving, we feel like something's missing.
The Antarctic explorer
Henri Robert, Science Liaison Officer, International Polar Foundation (IPF)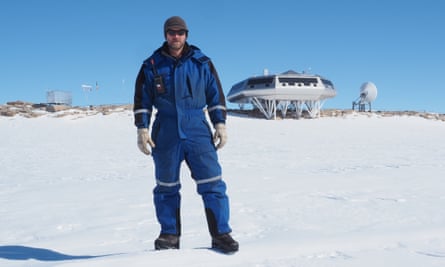 Our season aboard Princess Elisabeth Antarctica polar research station runs from November to February. It is a real building on a granite ridge surrounded by ice on the edge of the Sør Rondane mountain range, 200km off the coast of Queen Maud Land in East Antarctica. When we arrive it is -20°C; later in the year it warms up to -5 °C.
We get there from Cape Town and the IPF has an office in the city where all polar clothing is stored. A few days before the assignment, people come into the office to choose their clothing, from thermal underwear and balaclavas to down jackets and windproof trousers.
My biggest tip is never to underestimate the wind and cold. Conditions can deteriorate quickly and you can easily find yourself in a white-out. Here everything turns white around you and you cannot see your feet. You must always think of the worst conditions and be prepared for them. Bring extra gloves, some hand warmers, and a bottle of tea.
It's 20 degrees in the train station. We operate solar panels and wind turbines. We are the first and only emission-free gas station.
There is no humidity outside; It is a very dry, cold climate. The fact that the air is mostly dry helps a lot with insulation: you won't be able to deal with the cold if you're dressed well for the outside conditions.
Our greatest enemy is the wind. On a nice sunny day with no wind, even if it's -12°C, you can work outside in a t-shirt if you stay active. It's like on a ski slope. However, if there is no sun and the wind blows a little, you can feel it immediately.
I wear long johns, then a cotton t-shirt or shirt, plus a sweater and pants or jeans. On top of that I wear a Sprayway ski jacket and Millets pants that are both insulated and waterproof. We have special boots from Extreme Planet, a brand designed by explorer Alain Hubert. They are made for the climate in which we work. They're insulated down to -30°C, have a really thick sole and don't crack in the cold. We get them from the IPF on request. I like to wear mine with Merino wool socks: they're not as thick, but they warm up best.
I wear sunglasses because the light is so strong. They also prevent ice crystals from forming on my lashes. We're right under the ozone hole, so the sunlight is really concentrated. You can get sunburned in a couple of hours, so I always wear SPF50 cream. After being outside I use aftersun, hand cream and body lotion which I picked up at Cape Town airport.
I live in Belgium and getting back to normal can be pretty tough. We call it the "Antarctic Blues". Out here we live in a bubble: we have no money and we never go shopping. My wife is a former biologist, so she gets it. When I get home, I traditionally book a stay in a hotel with a thermal bath. It's the complete opposite of my life here. I like it: It's like turning a page.
The outdoor pool manager
Karis Musser, Manager on Duty, Jubilee Pool, Penzance, Cornwall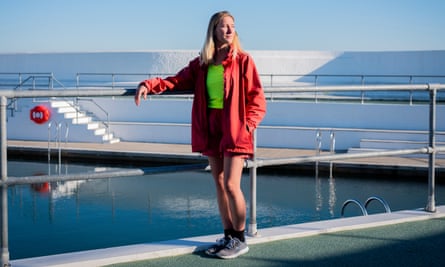 All year round I start every day with a dip in the sea. Then I go to work and change. I don't shower; I just splash water on my face because I like the feel of salt on my skin. I'll still put sunscreen on my face. I like Bondi Sands SPF50 and use Burt's Bees lip balm. The main Jubilee pool is unheated and is filled with seawater at high tide. Sometimes we get splashed by the waves. I love watching the light change throughout the day. The evening is my favorite: it turns purple and pink and the sea turns golden.
My early morning swim really gets my circulation going, which helps fight the cold. I usually eat the same to nourish myself. I start my day with Greek yogurt, muesli, and coffee, and then have a cup of tea and an apple at 11 a.m. For lunch I bring a sandwich, chips and fruit. The canteen provides us with free hot drinks and I drink herbal tea all afternoon.
I'm wearing thermal clothing and the Royal Lifesaving Society's Jubilee Pool brand kit – a windproof waterproof tracksuit and a fleece-lined waterproof jacket. I also have a waterproof and fleece-lined robe from Wild Moose. We are not allowed to wear things like rubber boots. You must be able to easily remove your shoes. I like Skechers sneakers.
I grew up in the tropics and lived in LA, so I used to be scared of the cold. Swimming outdoors helped me overcome it; It has also helped me a lot with anxiety and panic attacks. You learn to control your body in the water.
We had no cases of hypothermia this year. I train people how to swim safely in cold water: you can stay in the water for a minute per degree, so if it's 4C you can stay in it for four minutes. You start by splashing water on your face: it slows your heart rate. I explain to them how to breathe deeply. We don't allow anyone to dive in.
I'm always wet, so my skin suffers. I put a lot of Carmex balm on my nose. And I wear sunscreen every day. As soon as I get home, my face gets too hot – it's like a fever. I have to sit still for a bit, drink another herbal tea and read. Then I take a shower and apply moisturizer all over my body. I like the Lidl Cien Q10. It's cheap and it works. Then I make something warming for dinner like a curry or chili.
I used to work in a leisure center but the environment was really wrong. The lido is different: I know every customer. Outdoor swimming brings people together. It's all about community.
The cold store worker
Aldrin Jeswinth, Systems Manager at JS Davidson Cold Storage, Peterborough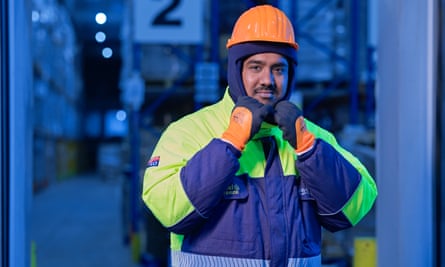 Frost will form on your face after 20 minutes in a -20°C freezer. But you can't feel it because you're deaf. Some people wear bandanas or balaclavas, but frost will form anywhere your breath causes moisture on the fabric. You should not spend more than 50 minutes in the session without taking a 10 minute break.
Our warehouses are huge. There is a large 43,200 cubic meter freezer unit. You enter through insulated doors. They open and close very quickly to prevent hot air and moisture from entering.
The shifts are from 6 a.m. to 2 p.m. and from 2 p.m. to 10 p.m. When you pick, you get a list of things to procure for a client. You're always on the move, so stay warmer than when you're on a forklift.
We wear Goldfreeze clothing which is insulated and designed to work in freezers. The gloves are made of neoprene, with a grained leather palm and a special Thinsulate lining that is designed to withstand extreme temperatures. The worst is cold feet and hands. Some people wear two pairs of gloves.
The longest-serving employee has been with us for 37 years. The shortest, 30 minutes. It's really tough. To be successful, all you have to do is break the pain threshold.