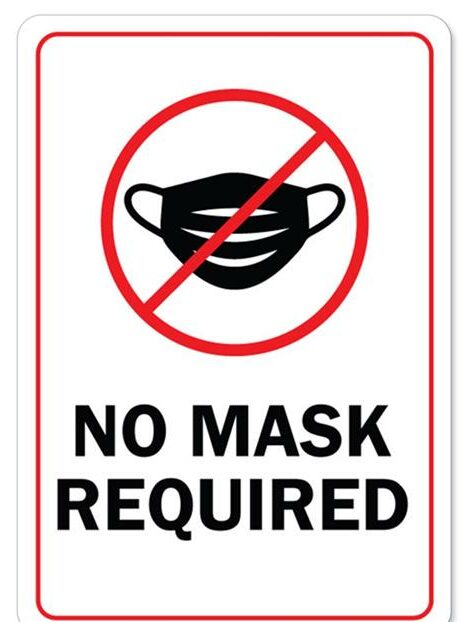 The end of the public transit mask mandate, officially reversed by federal judge Kathryn Mizelle on April 18, can be recognized as the day the COVID-19 pandemic ended in America.
Except it's not really over yet. The virus continues to produce new variants with greater or lesser transmissibility and lethality; At present, comparatively few people continue to die from the virus every day and week. and the CDC continues to recommend that the elderly and immunocompromised take every precaution.
But America is mostly done with the virus, even if the virus isn't done with us.
In truth, the virus won't really be done with things for quite some time…an indefinite amount of time when reality will throw itself off balance and the country will be aware of COVID-19, but in a distant, unsettling way, like distant thunder.
And that's just in terms of the infection rate. The extenuating fact – that a series of stubborn virus-related symptoms, now commonly referred to as Long Covid, could prolong the show longer than Cats ran on Broadway – has scientists and public health experts worried about a slow-burning epidemic that has raged for years and affects almost every corner of American society.
"Researchers still don't know who is most at risk or how long the disease might last; whether certain variants could cause it more frequently, or to what extent vaccines could sweep it away," writes Katherine Wu in the Atlantic. "We have no way of preventing this completely. We have no way of healing it. We don't even have a way to really quantify it: there's still no consensus on how common long COVID actually is. Its danger feels both amorphous and inevitable."
But more than two years into the pandemic, the impact of the long Covid is not that difficult to define, even if the virus itself remains elusive. In more ways than one, both the coronavirus and Long Covid are having a significant impact on American society, but the signs are unlikely to be obvious or widely known unless we connect a few dots.
For example, you probably already know about the American labor shortage. Maybe you've tried going to a nearby restaurant for lunch and found that it's closed due to staff shortages. Maybe your company is trying to hire and can't find qualified applicants. There's a good chance the labor shortage is partly the result of Long Covid.
According to an analysis by the Brookings Institution, there are currently more than 10 million job vacancies in the United States. After reviewing Long-Covid studies and evaluating the numbers, "under reasonable assumptions given the available data, Long-Covid could account for 15 percent of the country's 10.6 million job vacancies."
While many economists see a return to normal after the pandemic has been burned out or brought under control, neither has actually happened, and for a long time Covid is only pushing the finish line further and further. While the fact that Covid infections have subsided but not gone still has some positive economic implications, none of this is helped by the number of long-Covid workers unable to return fully or at all to the labor market.
"As workers start pouring back into the workforce, as schools and childcare become more reliable, and health risks decrease, it becomes easier for manufacturers and shipping companies to ramp up production and shipments, giving supply a chance to catch up with demand," says Washington's Ben Casselman Post. "That, in turn, could allow inflation to cool without losing the progress the economy has made over the past year."
The more the virus spreads, the longer Covid lasts and the greater the impact on the labor market and the economy at large, making it a significant concern for the foreseeable future.
Of course, a labor shortage across American industry will also impact healthcare, but that's nothing new — healthcare was dealing with a fairly acute and deepening labor shortage before anyone even heard of COVID-19.
These labor shortages naturally lead to competition for skilled workers, which drives up overall healthcare costs, and the shortage has worsened during the pandemic as many exhausted and often mistreated clinicians have withdrawn from healthcare altogether. Long Covid is simply adding more chronic disease patients to a system with fewer providers. The costs must increase, even if the amount is still open.
Unless the virus weakens and becomes more endemic as a pandemic, and perhaps even if it does, we can also expect increased costs from the unvaccinated. In several months of 2021, there were 163,000 deaths and 700,000 hospitalizations among the unvaccinated at a cost of $13.8 billion. Recent studies suggest that vaccines reduce the chance of a long covid without completely eliminating the possibility.
Many of the costs caused by long Covid in particular can be borne by the patient, not the system.
"The system targets people with long Covid," said Dr. David Putrino, Director of Rehabilitation Innovation at Mount Sinai Health System in New York. "And that makes them sicker and sicker over time … which causes them so much stress and effort while trying to get care that it actually makes the condition worse."
Indeed, skepticism about long Covid – some medics have dubbed it a mental illness – is reminiscent of the medical response to conditions like fibromyalgia, particularly because more women than men are afflicted with long Covid.
"Extrapolated from experience with other post-infection syndromes, the various elements of the biomedical and media ecosystems are merging into two well-known polarized camps," wrote Steven Phillips and Michelle Williams in the New England Journal of Medicine. "One camp believes Long Covid is a new pathophysiological syndrome that deserves its own thorough investigation. The other believes it probably has a non-physiological origin."
As past experience has shown, chronic diseases that are not directly addressed by the healthcare system often result in emergency room visits that increase both overall healthcare costs and the financial burden on the individual patient, ensuring that almost everyone loses.
And then there are the short- and long-term effects of Covid on American society in general, which will be felt but difficult, if not impossible, to quantify. Most countries don't keep running numbers on long Covid cases, meaning the virus lurks in the background, often out of sight and mind, but occasionally in the foreground when someone you know is dealing with acute illness or the long-term effects of an infection .
"As people accumulate different combinations of vaccinations and infections with different variants, it also becomes increasingly difficult to understand what long aggravates or relieves COVID," says Wu of Atlantic. "Many of the experts I've spoken to over the past two years have told me that while they think it's important to study COVID for a long time, it's too complex for them to want to tackle it themselves ."
Assuming what these experts say, the country faces a troubling prospect: the virus continues to evolve and continue to become infected. Now, a certain percentage of those infected develop long-term symptoms for which there are no well-defined treatments—at least not yet. These long-distance runners, as they are sometimes called, become a chronic class of disease that the system treats for the symptoms, but adds costs in care, labor, and likely the price of insurance premiums.
At this point, we are left with stopgap measures, which include mRNA vaccines and are similar to annual influenza management.
Our hope and prayer at this point may be that until we figure out exactly what Covid-19 is and how to deal with it, another virus, or a particularly nasty version of this virus, doesn't emerge.
---
About Irv Lichtenwald
Irv Lichtenwald is President and CEO of Medsphere Systems Corporation, the electronic health record solutions provider CareVue.