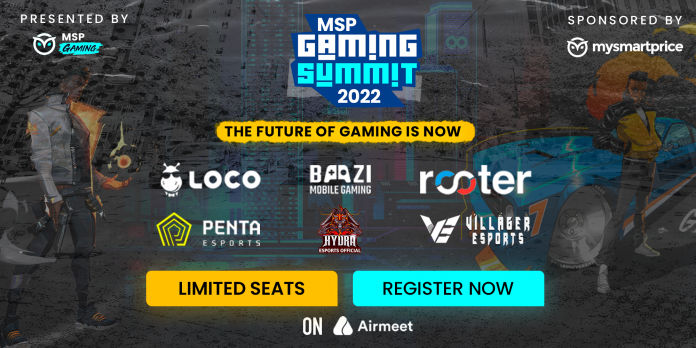 MSP Gaming, an IP of MySmartPrice, one of India's leading gaming communities, is gearing up to host its first edition of the 'MSP Gaming Summit 2022' featuring the industry's leading thought leaders. The all-virtual summit is designed to bring together leaders in the gaming ecosystem to discuss the big trends transforming the video game industry and how it would shape the future, along with a panel discussion on the new gamer-creator paradigm.
According to a recent study by Statista, the online gaming industry in India is expected to be worth Rs. 150 billion in fiscal 2024, up from Rs. 120 billion in 2022. In India, the online gaming sector has skyrocketed in the previous two years grown a year and a half and is now considered a legitimate profession. For example, India had over 390 million online gamers in 2021, an eight percent increase from the previous year. According to the survey, the total number of players is expected to exceed 450 million by 2023.
Also read: Microsoft's acquisition of Call of Duty and Diablo's studio Activision hit rocky waters; Could be contested for $69 billion
MySmartPrice is hosting the MSP Gaming Gaming Summit 2022
The event will feature a series of panel discussions with industry leaders and the Summit will showcase the evolving face of the industry. The first panel discussion "Play in 2025" also has an impressive lineup of industry speakers including Piyush Kumar, Co-Founder and CEO of India's leading games and esports streaming platform – Rooter, Kuldeep Kumar, Founder of Villager Esports, Varun Ganjo, Co-Founder and Marketing Director at Baazi Games, one of India's leading gaming tech organizations.
The second panel discussion panel "New Gamer Creator Paradigm" will present some of the key stakeholders of the Indian gaming community including Anurag Khurana, Founder of Penta Esports, Firasat Durrani, Vice President, Operations at Loco – an online live streaming platform , Secrett, professional Esports athlete currently playing for Hydra Esports.
As mentioned above, the summit also aims to release a report on one of the largest gaming surveys in India. It will feature insights from India's nationwide gaming survey, allowing the audience to observe user behavior patterns and preferences of Indian gamers in the community.
That's not all, the summit will also hold an online MSP Gaming Popular Choice Awards ceremony. During the event, prizes will be awarded for various categories including the most popular smartphones, laptops, processors, gamers, content creators and e-sports players. Winners will be determined based on community voting. Further details will be announced shortly.
The conference, scheduled for December 9, 2022 at 3:00 p.m. IST, aims to dive deep into the ever-growing gaming industry by providing insights from top game streamers, developers and marketers. The event is presented by MSP Gaming and MySmartPrice is supporting the event. Interested viewers can watch the MSP Gaming Virtual Summit LIVE live on Airmeet.
Follow MSP Gaming's official links to learn more about the upcoming Virtual Summit.
Website: Click here
Instagram: Click here
Facebook: Click here
Discord Server: Click here
Thank you for reading to the end of this article. For more such informative and exclusive technical content, like our Facebook page