TThis isn't a tribute. In many ways, breaking out the fiddles for Mark Lawrenson would truly mean missing the man's true essence. You may even have missed his retirement last week amid the season-ending farewell opera. Divock Origi gets an honor guard at Anfield. Mike Dean gets a 1,500-word farewell feature in Athletic. Lawrenson, on the other hand, just slid off, shoulders slumped and possibly a wry joke about how the door hadn't hit him on the way out.
Which feels a little odd, even considering Lawrenson has been in a gentle recession from our screens for a while. There were still the odd radio appearance, biannual appearances on Football Focus, the weekly predictions column for the BBC Sport website. But it was also an oddly understated retreat, considering most football fans in this country have probably spent hundreds, if not thousands, of hours watching Lawrenson's face over the years.
Of course, this has long been the privilege of the expert: to set these life-shaping experiences to music for us, to be the voice in the back of the room, the background talk on our triumphs and failures, World Cups and FA Cups and all those other Saturday nights spent on the sofa, covered with crispy crumbs.
Lawrenson's talent — and it was a talent — was to just drift unobtrusively into our living rooms, say a few words about tagging, and drift out again largely unnoticed.
They didn't have to listen to what Lawrenson said. He didn't really say much anyway. Were it not for the occasional twitch and tremble of his mustache, you'd occasionally forget he was even talking. He didn't make anyone angry or scolded or "destroyed" anyone. In fact, in the 25 years that I have observed and heard Lawrenson, I cannot recall a single unequivocal opinion he ever expressed, other than an occasional dislike for diving and the occasional conviction – strongly worded and sincere – that the striker has time to take an extra touch there.
And so Lawrenson's resignation is really more than a footnote in the broadcast landscape. It marks the end of a whole breed of expertise, a whole era of men (and of course they were always men) talking about football on TV, an era when the sport itself felt more like easy entertainment than heavy entertainment. If Lawrenson already felt like an anachronism long before he last hung up his mic, it's because the tonal shift in football broadcasts over the past decade has been in large part a reaction to pundits like himself.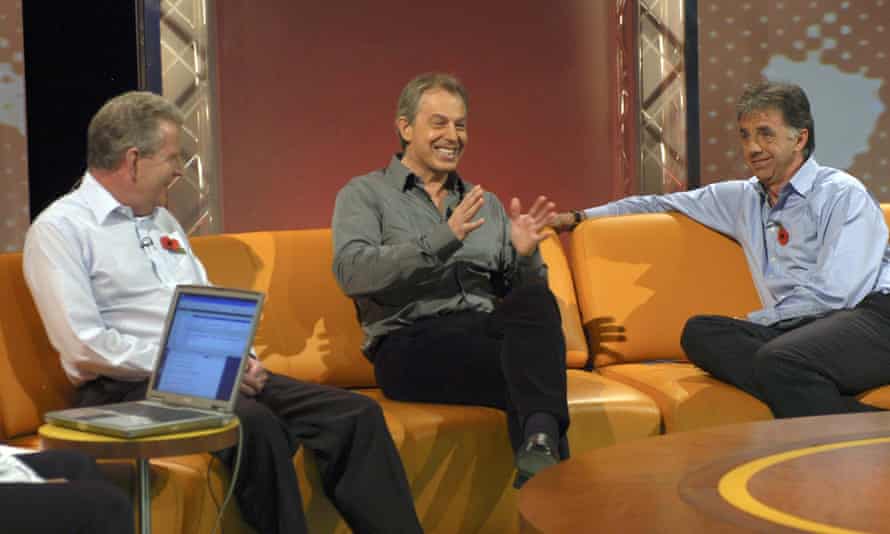 So today we have needy, struggling Chris Sutton, the man of a thousand takes, a pro who appears to have been sent to a broadcast studio with the express intention of being beaten over insurance. We have Gary Neville and Jamie Carragher, for whom polling is a soapbox rather than a sofa, an arena for competitive emotions and strong opinions to be fully expressed.
Neville is saddened by what we just saw. Carragher is beyond sad; he is shocked and outraged. Neville sees that Carragher is shocked and outraged and picks him up perplexed. Graeme Souness repeats what they just said, but with a Scottish accent and while furiously chopping an imaginary carrot. Micah Richards laughs uncontrollably. The entire exchange will later garner more than a million views on YouTube.
This is a better opinion in many ways: more entertaining, flashier, certainly more granular and analytical. But what's also changed here is the sense of performance: the knowing smirk, the theatrical flourish, the confident twinkle in the eye letting everyone know this is really all just for show, and afterwards everyone will change into comfortable clothes and go for a curry.
Modern pundits don't so much break the fourth wall as smash through it with a perfumed fist and slap you on the temples. Hey! are you still watching Look out! Roy Keane will be smoking in a minute! Micah will laugh! In many ways, the current era of pundits has more in common with the early days of color television in the 1970s, when pundits openly quarreled about the sport and denigrated one another.
My own favorite exchange comes from the 1974 World Cup, where Jack Charlton and ITV's Derek Dougan start a verbal brawl over the obstruction rule, which is only settled when viewers are asked to write on postcards to decide who was right. "Well, people have been wrong before," Dougan grumbled after Charlton won the poll by a margin of 78% to 22%. "It was wrong to vote for a Tory government instead of a socialist government in 1970."
Looking back, it's the pundits of the 2000s — your Lawrensons, your Alan Hansens, your Andy Townsends — who now feel like the anomaly. After all, it was a time when the product sold itself, when football grew, Manchester United won everything and jobs were for life. When you didn't have to have an opinion on the Saudi takeover or the government's health regulations or anything. In many ways, Lawrenson was the last of them, those sluggish ruminants of the studio jungle. He's gone now, and it's probably for the best. But you can't help but feel that there's a certain innocence to it as well.