Interior photographer Read McKendree has seen many beautiful homes. In his 20+ years of photographing a variety of subjects, from surf shacks to city penthouses, the Rhode Island-based photographer has discovered what makes a space not only beautiful, but also unique, striking and compelling . The photographer, husband and father, a champion of the use of light and a master of color, sat down with Coveteur to talk about the common threads he has noticed that run through the most extraordinary spaces, whatever their style .
"This space reminds me of New England summers," says McKendree. "I carry a straw hat in my car, always ready for an impromptu day at the beach."
Photo: Read McKendree/JBSA; Designed by: Lilse McKenna
What are some common themes you've noticed between homes that photograph beautifully?
"A strong design intent. Empty walls meant to stand empty can be beautiful, especially when they capture a streak of light or shadow. Likewise, a crowded bookshelf can be an incredible moment. When homes are designed with the lifestyle of the owner in mind, a personality level takes over."
What's your favorite house you've ever photographed and why?
"My wife works part-time for an architect, managing social media and producing their photoshoots (dealing with me). One of the shoots was a house made up of three cabins on an island in Maine. The city was mostly closed for the season so we had to pack food, wine and any props we would need. Apart from a few people we met out there, it felt like we owned the island to explore. The house was really relaxed and only one cabin had insulation. It was evident that the homeowners considered the simplicity and their land and views to be the ultimate in luxury – I could have moved in and never left."
"This was an older house that had been renovated and Robert [McKinley] retaining much of the original wood paneling," explains McKendree. "Old wood has a warmth and soul that only comes with time."
Photo: Read McKendree/JBSA; Designed by: Studio Robert McKinley
Prefer to work with a stylist on set? If yes why?
"Absolutely. Stylists teach so much about a shoot and the final images. Their interpretations of space, realized through supports and floral choices, are as important as the angle and lighting the photographer chooses. They focus as well as I focus on small details like tangential lines, folds and crooked lampshades, which allows me to focus on the composition and the light. It's nice to have a partner in the obsession!"
How did you get into photographing interiors?
"I almost dropped out of photography school to study architecture. So there has always been an interest in design and the built environment. I finished my degree in photography and started taking photos straight away. One of my very first clients was actually an interior designer. Initially, there were lots of odd jobs mixed in with the occasional interior build or architectural gig—whatever it took to pay the rent. It was years later that he was shooting for a book called Home Surfers surf shacksthat I really fell in love with capturing interiors. My focus was on capturing built environments and best translating the essence of a space into a two-dimensional image. Since then, I've been learning how to do it as efficiently and beautifully as possible."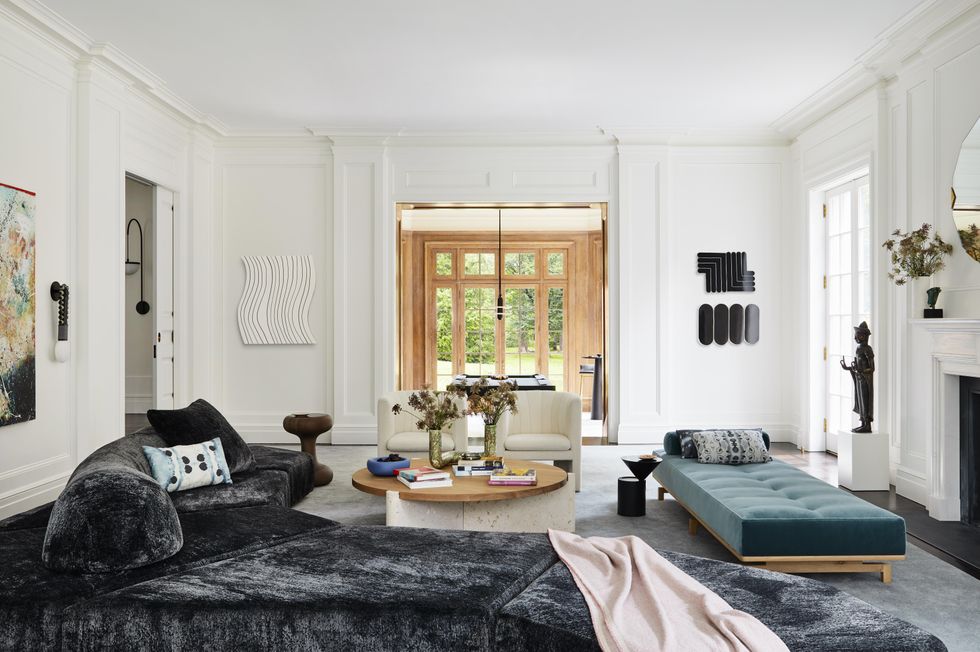 "The pieces that a homeowner collects can say so much about them and add a really rich layer to the interior design," says McKendree.
Photo: Read McKendree/JBSA; Designed by: Lucy Harris Studio
What do you love most about photographing interiors?
"I love to see how other people live and how designers and architects adapt and create. I can spend a day or two in it a lot of of houses throughout the year and each tells its own unique story. Of course, there are challenges that come with this – endless changing variables, logistical challenges, and light puzzles. It keeps things fresh and exciting. And I love the way light dances through a room; it often leads me to a composition. Light is important to all photographers, but in a home it almost feels like a guest. It can completely transform a room."
Do you have any tips for someone trying to make vignettes at home?
"When I'm capturing a vignette for a client, what I leave out of the frame is just as important as what I include. It helps to focus on the specific objects and understand how they interact with each other while temporarily ignoring the rest of the room."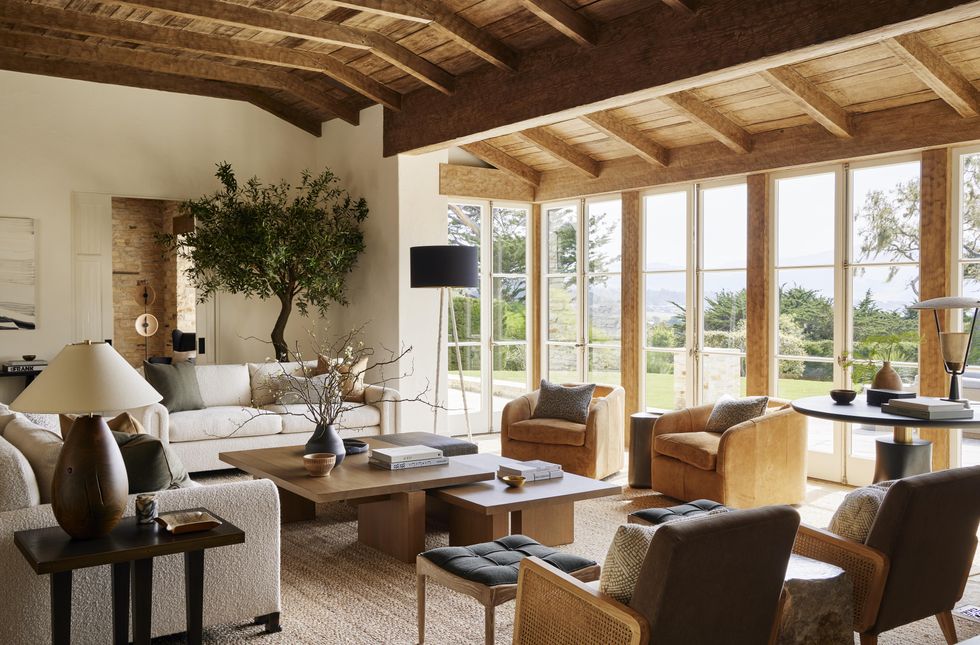 "I really appreciate a nod to the natural environment that surrounds a home," says McKendree. "This space brought in so many colors and textures of the surrounding Carmel, California landscape."
Photo: Read McKendree/JBSA; Designed by: Workshop/APD
What are the top three lessons you've learned from staying in some of the finest homes in the country?
"1) Quality over quantity. My wife and I try our best to wait for the right piece of furniture rather than rushing into one that we will either regret or fall apart. 2) I just want to live in a house that can be built character as she ages. My parents still have the kitchen table where I used to do my homework and you can see my early handwriting in the wood. These imperfections are memories. 3) Art is so important. And it doesn't have to be expensive to be useful. Support friends who are artists or buy something at a thrift store. If it makes you happy, buy it and hang it up!"
window.REBELMOUSE_ACTIVE_TASKS_QUEUE.push(function(){
var makeMonitor = (getStatus, cb, delay) => { delay = delay || 100; var monitor = () => { var time = +new Date(); var status = getStatus(); if (status) { return cb(status); } else { if (!stopMonitor && +new Date() - time < 30 * 60 * 1000) { monitorId = setTimeout(monitor, delay); } else { cb(false); } } }, cancel = () => { stopMonitor = true; clearInterval(monitorId); }; let monitorId, stopMonitor = false; return { start: monitor, cancel: cancel, }; };
var leftArrowCarrousel = makeMonitor( function () { return document.querySelector( ".shop-sidebar.shop-posts .posts-wrapper .slick-next" ); }, function (res) { res.addEventListener("click", () => { gtag("event", "Left Arrow Click", { event_category: "Shopping Module", event_label: "Previous product at carrousel", }); }); } );
leftArrowCarrousel.start();
var rightArrowCarrousel = makeMonitor( function () { return document.querySelector( ".shop-sidebar.shop-posts .posts-wrapper .slick-prev" ); }, function (res) { res.addEventListener("click", () => { gtag("event", "Right Arrow Click", { event_category: "Shopping Module", event_label: "Next product at carrousel", }); }); } );
rightArrowCarrousel.start();
var buyButton = makeMonitor( function () { return document.querySelectorAll( ".shop-sidebar.shop-posts .posts-wrapper .widget__product-buy-link-btn" ); }, function (res) { for (let button of res) { button.addEventListener("click", () => { gtag("event", "Buy button click", { event_category: "Shopping Module", event_label: `${button["href"]}`, }); }); } } );
buyButton.start();
var imageShopp = makeMonitor( function () { return document.querySelectorAll( ".shop-sidebar.shop-posts .posts-wrapper .widget__head a" ); }, function (res) { for (let image of res) { image.addEventListener("click", () => { gtag("event", "Image click", { event_category: "Shopping Module", event_label: `${image["href"]}`, }); }); } } );
imageShopp.start();
var productTitle = makeMonitor( function () { return document.querySelectorAll( ".shop-sidebar.shop-posts .posts-wrapper .widget__headline .widget__headline-text" ); }, function (res) { for (let product of res) { product.addEventListener("click", () => { gtag("event", "Product title click", { event_category: "Shopping Module", event_label: `${product["href"]}`, }); }); } } );
productTitle.start();
});
window.REBELMOUSE_ACTIVE_TASKS_QUEUE.push(function(){
window.REBELMOUSE_STDLIB.loadExternalScript("https://s.skimresources.com/js/150311X1615657.skimlinks.js", function() {
});
});
window.REBELMOUSE_ACTIVE_TASKS_QUEUE.push(function(){
let modDate = new Date (document.querySelector('.current--post .social-date-modified__text').textContent); let createDate = new Date (document.querySelector('.current--post .social-date__text').textContent); let m_names = new Array("January", "February", "March", "April", "May", "June", "July", "August", "September", "October", "November", "December");
function dateToMDY(inputDate) { var d = inputDate.getDate(); var m = inputDate.getMonth(); var y = inputDate.getFullYear(); return '' + m_names[m] + ' ' + (d <= 9 ? '' + d : d) + ', ' + y ; } document.querySelector('.current--post .social-date-modified__text').innerText = dateToMDY(modDate); document.querySelector('.current--post .social-date__text').innerText = dateToMDY(createDate); }); window.REBELMOUSE_ACTIVE_TASKS_QUEUE.push(function(){ !function(f,b,e,v,n,t,s){if(f.fbq)return;n=f.fbq=function(){n.callMethod?n.callMethod.apply(n,arguments):n.queue.push(arguments)};if(!f._fbq)f._fbq=n;n.push=n;n.loaded=!0;n.version='2.0';n.queue=[];t=b.createElement(e);t.async=!0;t.src=v;s=b.getElementsByTagName(e)[0];s.parentNode.insertBefore(t,s)}(window, document,'script','https://connect.facebook.net/en_US/fbevents.js');fbq('init', '1248680838922690');fbq('track', 'PageView'); }); window.REBELMOUSE_ACTIVE_TASKS_QUEUE.push(function(){ window.REBELMOUSE_STDLIB.onElementInViewport({ threshold: 400, selector: "video", oneTime: true, onIntersect: function(entry){ var element = entry.target; element.setAttribute("allow","autoplay"); element.loop = true; element.muted = true; element.autoplay = true; element.setAttribute("playsinline","true"); //element.controls = false; element.play(); } }); }); window.REBELMOUSE_ACTIVE_TASKS_QUEUE.push(function(){ let headings = document.evaluate("//p[contains(., 'Want more stories like this?')]", document, null, XPathResult.ANY_TYPE, null ); let thisHeading = headings.iterateNext(); console.log(thisHeading.textContent, 'head changed'); thisHeading.innerHTML = "More From Coveteur"; thisHeading.style.fontFamily= 'Playfair Display'; thisHeading.style.fontSize="24px";
});