A wintry mess is upon us.
A low-pressure system will distribute moisture to the upper Midwest Thursday afternoon through Friday and Friday night.
Snow, freezing rain in the first wave
The first wave of precipitation is expected to begin as a mixture of snow and freezing rain from southwest Minnesota through much of central Minnesota and parts of northeast Minnesota and northwest Wisconsin, then transition to snow mostly in the same areas overnight through Friday.
In the Twin Cities metropolitan area, there was a chance of rain showers from Thursday afternoon through Thursday night, which could at times be mixed with snowflakes.
What does that mean? The news, analysis, and community conversations found here are funded by donations from individuals. Make a gift of any amount today to support this resource for everyone.
The National Oceanic and Atmospheric Administration's North American Mesoscale (NAM) forecast model shows the potential precipitation pattern from 1:00 p.m. Thursday to 10:00 a.m. Friday:
Winter weather warnings will cover much of central Minnesota and portions of southwest Minnesota from 3:00 p.m. Thursday through 10:00 a.m. Friday: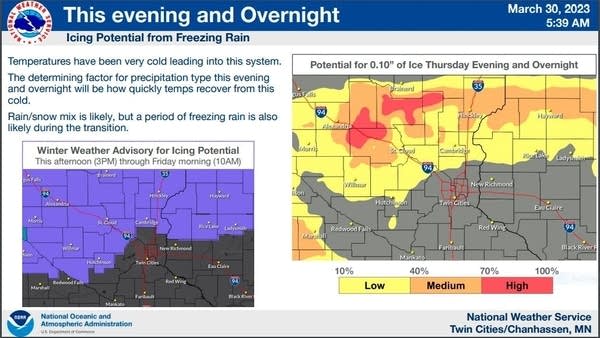 The winter weather warning begins Thursday at 7 p.m. from Brainerd to Hinckley in northwestern Wisconsin.
Winter weather warnings are issued in northeast Minnesota from 7:00 p.m. Thursday through 7:00 a.m. Friday: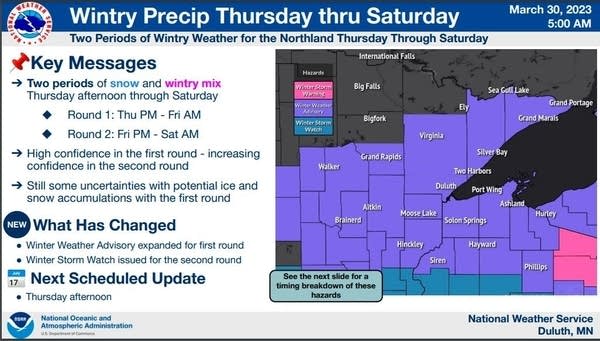 Most areas of the far north will experience mostly snow, with a wintry mix that may include intermittent freezing rain from Duluth through Brainerd and Hinckley to Hayward, Wisconsin:
Rain, snow, maybe thunder in the second wave
The second round of this storm system will initially bring rain to much of southern Minnesota on Friday, with a transition to snow Friday night. Southern Minnesota and the Twin Cities metro area also have a chance of thunderstorms Friday afternoon and evening.
West and central Minnesota will initially see a wintry mix on Friday, with a quick switch to mostly snow.
NOAA's NAM forecast model shows the potential precipitation pattern from 11 a.m. Friday to 7 a.m. Saturday:
Several centimeters of snow are possible in many areas on Friday evening and in the night leading up to Saturday:
A winter storm watch covers much of central and southern Minnesota, including the Twin Cities, from either Friday afternoon or Friday evening through early Saturday: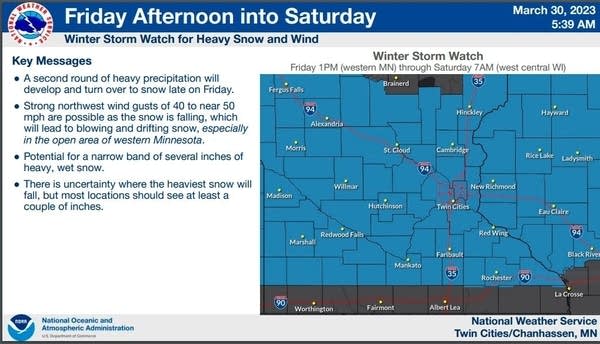 Here are details of the winter storm watch, which begins Friday at 7 p.m. in the greater Twin Cities area:
MNZ060>063-068>070-076>078-301800- /O.CON.KMPX.WS.A.0009.230401T0000Z-230401T1200Z/ Hennepin-Anoka-Ramsey-Washington-Carver-Scott-Dakota-Le Sueur-Rice-Goodhue – Includes the cities of Minneapolis, Blaine, St. Paul, Stillwater, Chanhassen, Chaska, Victoria, Shakopee, Hastings, Le Sueur, Faribault and Red Wing EVENING THROUGH SATURDAY MORNING… * WHAT… Heavy snow possible. Total snow accumulations from 4 to 6 inches possible. Winds could get up to 45 km/h. * WHERE…parts of east-central, south-central, and southeast Minnesota. * WHEN…From Friday evening to Saturday morning. * IMPLICATIONS… Plan for slippery road conditions. Blotchy snow flurries can significantly reduce visibility. Gusty winds could knock over branches. PRECAUTIONS/PRECATIONAL MEASURES… Monitor the latest forecast for updates on this situation.
Winter storm watch begins Friday at 1 p.m. across much of southwest and central Minnesota.
Check the MPR News Network and MPR News for updated weather information for Minnesota and western Wisconsin Live Weather Blog.
weekend temp
The average high temperature in Twin Cities on April 1st is 50 degrees. Highs in the metro area will be in the upper 30s this Saturday.
Most of Minnesota and western Wisconsin will have highs in the 30s on Saturday, with some 20s in northwest Minnesota:
Sunday highs can range from 30 in northwest Minnesota to 50 in the far southeast:
If we get several inches of fresh snow Friday night, I don't expect metro highs to hit the 40 mark until Sunday.
programming note
You can hear my live weather updates Saturday and Sunday at 7:35am, 9:35am and 4:39pm on MPR News.