You will hardly find a more charismatic and influential character shaping English women's rugby than Gill Burns.
The former England captain is still heavily involved in the game as the current Lancashire RFU president, works as a rugby administrator and has her fingers in many other rugby pies.
We look back at the former number eight's career highlights, including winning the World Cup with England in 1994, hear how instrumental the former back row player was in finding the original World Cup trophy that had been missing for 15 years , and learn about the retired physical education teacher's 32-year role in founding the Firwood Waterloo Women's RFC.
tunnel talk | Scotland's Chloe Rollie
Burns begins by telling us how she found the sport that she has become synonymous with: "My journey with rugby started as a newly qualified PE teacher who just loved sport, but I started playing hockey.
"Back then I was a great centre-forward who scored a lot of goals and in one game I came across someone who was between me and the goal that hindered me. It wasn't my fault but she eventually fell to the ground as I guided her out of the way and after I went on and scored I came back to pick her up.
"Then she said to me, 'The way you play hockey, you should be a rugby player.' She said: "I'm not funny. I'm a rugby player and we have a team nearby."
"I jogged back to the halfway line thinking I didn't know women were playing. After that I spoke to the same woman in the bar and she said she plays for Liverpool Polytechnic and anyone who wants to play can play. I just loved the idea of ​​playing rugby.
"This woman told me she was training at Waterloo Rugby Club so I joined the following Sunday and knew straight away I had found the sport for me. Eventually, that team led us to found Waterloo Women."
In those days it was not uncommon for international players who wanted to play club rugby at a high level but could not find a club to take it upon themselves to form one. Well-established clubs like Saracens Women exist today because of pioneering ex-players who took the initiative and didn't take no for an answer. So here lies Burns' first piece of rugby history, although Waterloo is no longer part of the top-flight Premier 15, it plays proudly in Championship North 1.
And there was more story to come…
England's first World Cup victory came in 1994 and Burns has fond memories of the tournament and the celebrations in Edinburgh that followed.
"Looking back, we got the award we wanted to win. First of all we made a concerted decision to pay for the best hotel possible to give us the opportunity to do what we all came to do.
"We said 'let's bite the bullet' and take care of ourselves and stay somewhere where we can be comfortable and sleep well. During the 1991 World Cup we were in a hotel that we had to vacate midweek and we had all slept in a function room with sleeping bags. For tournaments we were used to staying in youth hostels with bunk beds, it certainly wasn't luxurious."
"We turned professional with a little 'P' and by 1994 the squad was very well formed, everyone at the park knew the game plan and as a squad we were all on the same page.
"We played Russia in one of our group games and I was asked to lead the team, which was a tremendous honour. I really never dreamed that I would ever do something like this.
"We knew nothing about Russia at the time. There was no way to search the internet and find out. But I thought it might be nice to give a speech in Russian after the game. A friend of Emma Mitchell's spoke Russian, so I picked up the phone and asked her to translate what I wanted to say and learned Russian phonetically by trying to write it on a piece of paper.
"In the end we won and I gave a speech in very bad Russian after the game, but they laughed a lot. After that, her trainer ran up to me and shoved down my throat what I assumed was supposed to be a shot glass but was more like half a pint of vodka while everyone cheered and laughed. So they were either very happy with what I said or they were glad it was over!"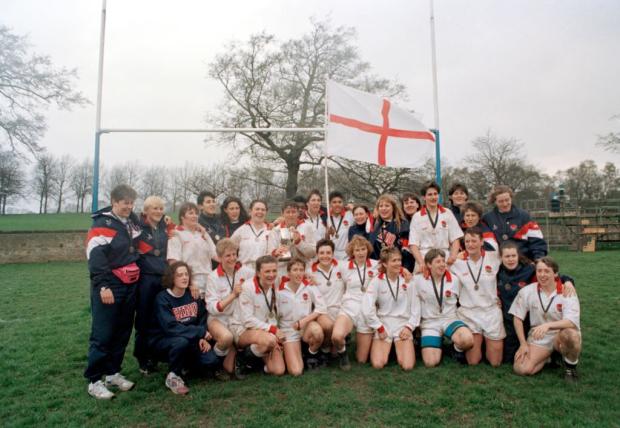 "The 1994 tournament was incredible. The best thing about this event was the friendliness of all the teams and people from different countries trying to speak to each other in different languages.
"After we won I remember the joy of standing under a group and teaching them a silly little song I knew when I was a little kid called 'Cottage in the Wood'. They do actions with their arms and hands so people who don't speak English can join in and I also remember we introduced "Oops Upside Your Head" where everyone sits on the floor between the legs of the person behind them and it had to do all the actions."
It's fair to say that Burns was the organizer of the fun and games, but she also spearheaded the more serious task of finding the original Women's World Cup trophy that her team won in 1994 when it went missing.
"The last time I saw the trophy was in a display case at Twickenham Museum on a school field trip. However, when I next went to Twickenham, it wasn't there. I wondered where it was, but back then the trophy was taken on a lot of road trips, so I didn't really ask anyone.
"Then for the 1998 World Cup, the IRB (now World Rugby) produced a big, shiny new trophy, similar in style to the men's, and the old trophy was not needed. But it just seemed a little odd that no one knew where it was!
"And then I posted a message on Twitter a few years ago and said does anyone know where the World Cup is? But again, no one (among my followers anyway!) knew where it was.
Where is the original trophy? #We need cucumbers pic.twitter.com/JyeeLD1Nl7

— Gill Burns MBE (@Waterloonumber8) September 3, 2014
"Then last year during lockdown I got back in touch with some former regional women players and one of the women knew one of the former RFU for Women (RFUW) administrators. Turns out she was cleaning out her father's attic and found a box full of RFUW board meeting minutes, which is historically very valuable, and then in the other box she said, 'I think it's the World Cup!'
"It must have been taken to a roadshow and then put out of the way in a safe place in the attic. But after being lost for so many years, it was just awesome that we found it.
"I have personally given it to Twickenham Museum curator Phil McGowan for safe keeping!"
And because of Burns' efforts, the original trophy is currently on display at the World Rugby Museum in Twickenham for everyone to see a real piece of women's rugby history.
The current World Cup trophy is on its own journey on the 2021 Trophy Tour, which runs from April to September 2022 and travels through Aotearoa, New Zealand and the Pacific Islands in the run-up to this fall's flagship tournament. Undoubtedly, Burns will be one of England's most enthusiastic supporters as the Red Roses attempt to bring another trophy back to Twickenham.
Comments
Sign up for free and tell us what you really think!
Register for free