England head coach Simon Middleton is confident his side will rise to the ultimate challenge when they take on New Zealand in Saturday's Rugby World Cup final. Middleton has unveiled a slightly redesigned starting XV that includes winger Lydia Thompson and center Holly Aitchison and believes his players are ready to take on the added pressure of the occasion.
In the absence of the injured Helena Rowland, Middleton has recalled the experienced Thompson to help contain the Black Ferns' dangerous full-backs, while Aitchison replaced Tatyana Heard at centre-back. Ellie Kildunne will now start at full-back, with Heard and Claudia MacDonald on the bench.
There are also six forward substitutes, including Sadia Kabeya, Cath O'Donnell and Shaunagh Brown, as England look to stop their attacking hosts at the source in the final at a packed Eden Park.
"When the going gets tough, this team knows how to hit it," Middleton said. "So we are enjoying Saturday and all that it will bring.
"There can be no greater challenge in sport than playing the world champions in your own backyard to a packed house – 99.9% of them will be from the competition. Great teams don't fear these challenges, they embrace them and face them head-on. That's what we intend to do."
Middleton also praised his team's "skill, resilience and unwavering belief in one another" as they seek a 31st straight Test win. "One always strives to create something special in team sports, and we succeeded with this group of the Red Roses," added the head coach. "We know in our hearts that this will most likely be the last time this group will all come together, but what they created and achieved will live on for a long time.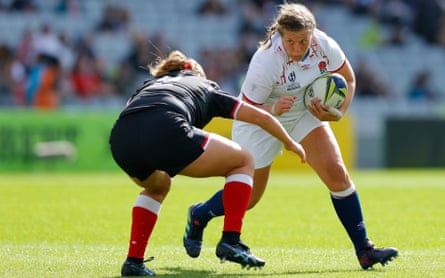 "I couldn't be prouder of the team, how we behaved and how we performed. We aim to leave this country with a better squad than when we arrived and regardless of what happens on Saturday we will do that."
England are also keen to lift the trophy for all of their non-playing team-mates, including injured Hannah Botterman and Laura Keates, as well as absent friends like Bryony Cleall and Natasha 'Mo' Hunt, who narrowly missed out on selection for the final World Cup squad missed .
Brown, for example, says she's keen to win Saturday's game "in honor" of Botterman, who injured his knee in training ahead of the semifinals against Canada. "I want her to know that everything she's worked for over the past five years is still worthwhile," the Harlequins prop said. "It's also for the people who've been training with us all summer and haven't made it here. I love to play, but now playing for other people is a big part of my life."
Brown, 32, who only started playing football seven years ago, also hints that the side are motivated to take the final leap to raise football's profile in England even further. "We want to play at home for the kid who has never played the game before but sees it on TV and sees a group of girls having fun.
"It's also about the social acceptance of women playing rugby. To this day I often hear people tell women that they are too short or not strong enough to play rugby. You're just thinking, 'What world are you living in?' There are so many differences in height, weight and height in every women's team. Rugby is special because it celebrates different types of people."
There is also a desire to justify Rugby Football Union's decision to offer professional contracts to the leading players following their loss to New Zealand in the 2017 World Cup final. "It would reinforce that we're worth it," Brown says. "When you invest in us, a full-time program can do just that."
A world record crowd for a women's game of more than 40,000 is expected to attend the final, with Brown insisting nerves will not be a problem for the Red Roses.
"We're in a good place and it's time for the last dance now. The coaches confirmed that we don't need to stress ourselves. We just have to play like we play every other week. Yes, it's a big deal. Yes, it's a World Cup final. But we are here because we deserve it."
The Black Ferns made just one injury change on Matchday 23, with 2017 World Champion Charmaine McMenamin replacing Liana Mikaele-Tu'u, who sustained a thumb injury in the semi-final win. The team consists of six players who took part in the 2017 World Cup final against the same opponent.