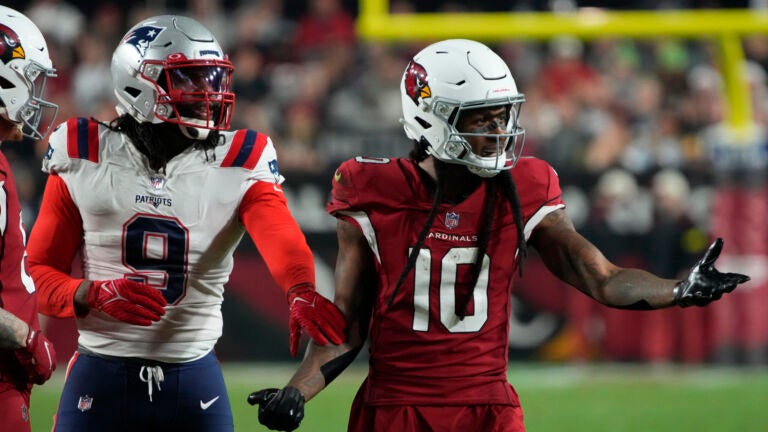 The waiting game between DeAndre Hopkins and the Arizona Cardinals continues.
Although Hopkins, a five-time All-Pro receiver, was listed as a likely tradesman last month, the Cardinals have yet to find the right contender for the 30-year wideout.
From Rob Gronkowski to Damien Woody, several former Patriots have lobbied for New England to pursue the veteran receiver this spring.
But according to former NFL manager Mike Lombardi, Arizona hasn't made many offers for Hopkins since he put his name on the market.
"I think his market is really soft," Lombardi said of Hopkins on his GM Shuffle podcast. "I don't think anyone wants to get into the Hopkins business and then have to re-sign their contract."
Lombardi, a confidante of Bill Belichick who supported the New England coaching staff from 2014-15, added, "From what I've been told, it's soft. There's not a lot of action out there on it. He's a good player, he's always covered, but he always comes up with the football. But there are other things that are contributing that I'm not allowed to discuss that are probably holding everything back."
Even though the Patriots replaced Jakobi Meyers last week with what is arguably a more dynamic slot option in JuJu Smith-Schuster, New England will still benefit from adding another big-play threat for Mac Jones in 2023.
Hopkins' resume and skills are spot on.
Despite being limited to just nine games with Arizona last season, Hopkins had 64 catches for 717 yards and three touchdowns. Hopkins ended the year averaging 79.7 yards per game, the 10th highest for any NFL wide receiver in 2022.
But as Lombardi noted, Hopkins' contract could give New England a break.
Hopkins has two years left on his current contract, which has a base salary of $19.5 million in 2023 and $14.9 million in 2024.
The Patriots will need to move some cash to close a similar deal, considering they currently have just $8.9 million in effective cap space (per OverTheCap.com).
And even if New England got the money to work or restructured Hopkins' contract, the Pats still need to be mindful of the financial commitments that await them in 2024 when key wheels like Michael Onwenu, Josh Uche, Kyle Dugger, Hunter Henry and others slam free agency.
ESPN's Dan Graziano echoed some of those thoughts Monday morning when discussing the likelihood of a Hopkins landing in New England.
"I think they took their strategic moves at liberty," Graziano said. "Also, they've made some moves on offense in the free hand that they think will help.
"In terms of a big splash move, no, I don't feel like one is coming from the Patriots. Well, with Belichick, you never know. He could be planning something, but it sounds like they're entering a somewhat quiet period looking for the kind of bargains he's built the franchise on in the past."
Loading…