CINCINNATI — Bengals right tackle La'el Collins is expected to play against the Jets on Sunday despite missing the first two days of practice.
Collins stretched with the team on Friday but did not participate in any individual practice.
"We're just watching the week and we're optimistic for Sunday," head coach Zac Taylor said after practice.
Collins is officially questionable for Sunday's game.
Linebacker Germaine Pratt is questionable with a knee injury. Pratt missed Wednesday and Friday sessions. Akeem Davis-Gaither and Markus Bailey will replace Pratt on defense.
Tight end Hayden Hurst was restricted on Friday and officially questionable with a groin injury.
Check out the full Bengals Week 3 Game Status Report below.
To learn more about the Bengals, watch the video below and subscribe to our YouTube channel.
Make sure to bookmark All Bengals for the latest news, exclusive interviews, movie breakdowns and more!
You may also like:
Joe Burrow Says "Relax" After Bengals 2-0 Start
Film Room: How Joe Burrow and Bengals Can Beat Tampa 2's Defense
Bengals fall in Week 3 power rankings after losing to Cowboys
Bengal's offensive line hoping to make Joe Burrow more comfortable
Will Bengals be the exception after the 0-2 season starts?
Four takeaways after the Bengals lost to the Cowboys
Ja'Marr Chase calls for changes after 20-17 loss in Dallas
Scroll to Next
Continue reading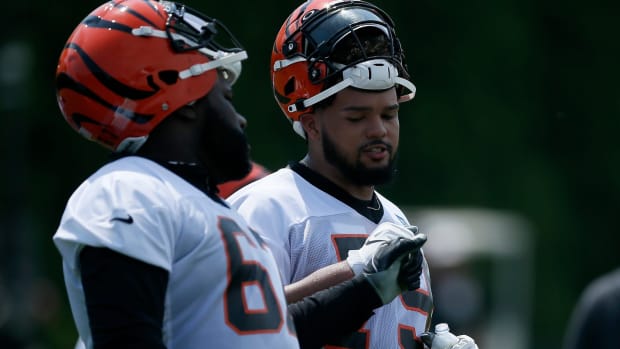 Zac Taylor weighs what Jackson Carman needs to do to win starting camp job
Report: Dolphins release veteran center Bengals had interest in this offseason
Training camp 3 recap: Bengals D under pressure to push in 2021
Winners and Losers From losing the Bengals to the Cowboys
Bengals' rally falls short in 20-17 loss to Cowboys
Ja'Marr Chase comments on Minkah Fitzpatrick's flipping double bird
Movie Breakdown: Analyzing DJ Reader's stellar performance against Steelers
Bengals in top 10 in power rankings after losing to Steelers
Zac Taylor admits he should have challenged Ja'Marr Chase's goal-line catch
Five takeaways from losing the Bengals to the Steelers
Joe Burrow and Bengals are not panicking despite a frustrating loss
Snap Count Breakdown: Thoughts on Dax Hill, Ja'Marr Chase and Others
Walkoff Thoughts: Joe Burrow, Zac Taylor Struggle in Opener Vs Steelers
Dak Prescott injures his hand and won't play Bengals in Week 2
Winners and losers from the Bengals loss in overtime to the Steelers
Bengals drop season opener to Steelers
—–
Make sure it's locked on All Bengals all the time!
Subscribe to the All Bengals YouTube channel
Follow AllBengals on Twitter: @AllBengals
Like our Facebook page
Subscribe and follow the ONLY Daily Bengals Podcast
Follow Tiktok