Emails from Tom Diggles: "It feels like you and The Guardian have forgotten that there is a far more important play-off game taking place on Saturday, Port Vale versus Mansfield Town. It may not be the richest game in the history of the universe or bring together two super duper super clubs in Paris, but it is very important to me and many others! Up the valley."
Right, it's time for Tom Davis to take over the baton for a while. He will give you some prep for Mansfield vs Port Vale on Saturday and Sunday's Championship showdown between Huddersfield and Nottingham Forest.
Want to dive deep into tactical analysis for the Champions League final on Saturday? We have just the right man: Jonathan Wilson.
Obviously, the following lines of comments can bring back memories of throwing a shoe at the TV if you are not a Liverpool fan. That was definitely a way of expressing anger in the late '70s. The punks were probably outside and knocked over some phone boxes.
I put out the old videos and did a bit of youtube. Some of these are so familiar. I like the simple rhythm of Barry Davies' McDermott commentary. And Clives are all good. your favorites?
1977 Liverpool – Borussia Monchengladbach 3-1
"That's nice. That's McDermott. And that's a goal!"
"Oh yes. And what a keen goalscorer. It's Tommy Smith!"
"Neal vs. Kneib…. and with that simplicity, the European Cup is surely won." -Barry Davies
1978 Liverpool 1-0 Brugge
"Now Dalglish. In front of the gate. It's there, Dalglish." -Brian Moore.
1981 Liverpool 1-0 Real Madrid
Alan Kennedy… and he keeps going… and he scores!" -Barry Davies.
1984 Liverpool 1-1 Roma – won on penalties
"Liverpool are European champions. What fun. Alan Kennedy's penalty leaves Rome distraught and Merseyside cheer." -Brian Moore.
2005 Liverpool 3-3 AC Milan – won on penalties
"Riise. Downloaded from Cafu. Into Gerrard! Hi! Hi! Here we go. Steven Gerrard raises Milan's doubts.
"Hit by Smicer. It is in! It is in! Vladimir Smicer! Two goals in two minutes for Liverpool. Miracles are possible."
"Oh, saved by Dida, Xabi Alonso! The impossible is done! Liverpool were 3-0 down five minutes ago…. and now look at that notch!"
"There won't be a second chance if Shevchenko misses… he saved it! The European Cup returns to England and Anfield! Liverpool are European champions again!" – Clive Tyldesley
2019 Liverpool 2-0 Tottenham
"Salah vs Lloris. And he scores. And Liverpool are off to a perfect start in the Champions League final.
"Origi with the chance. And that certainly wins it for Liverpool. Divock Origi. The hero in the semi-final against Barcelona is the hero in the final for Liverpool against Tottenham." – Darren Fletcher
A few more pictures from Paris…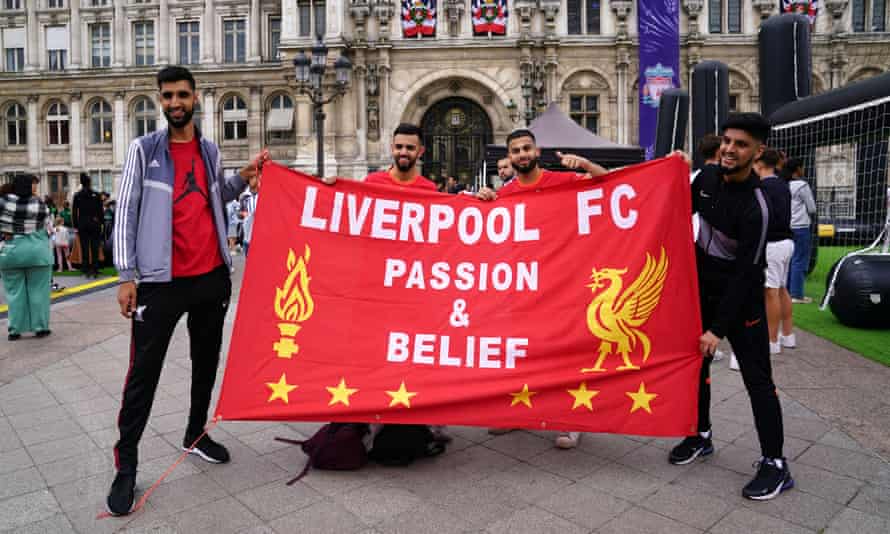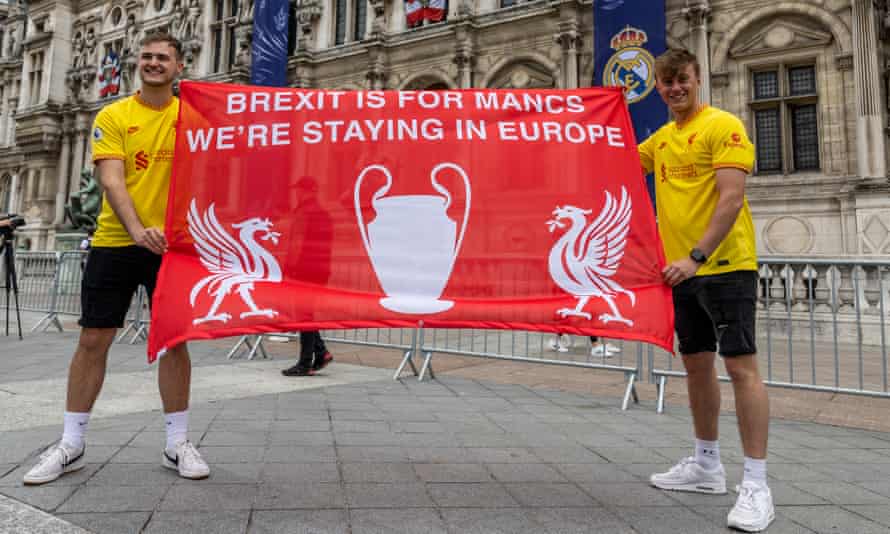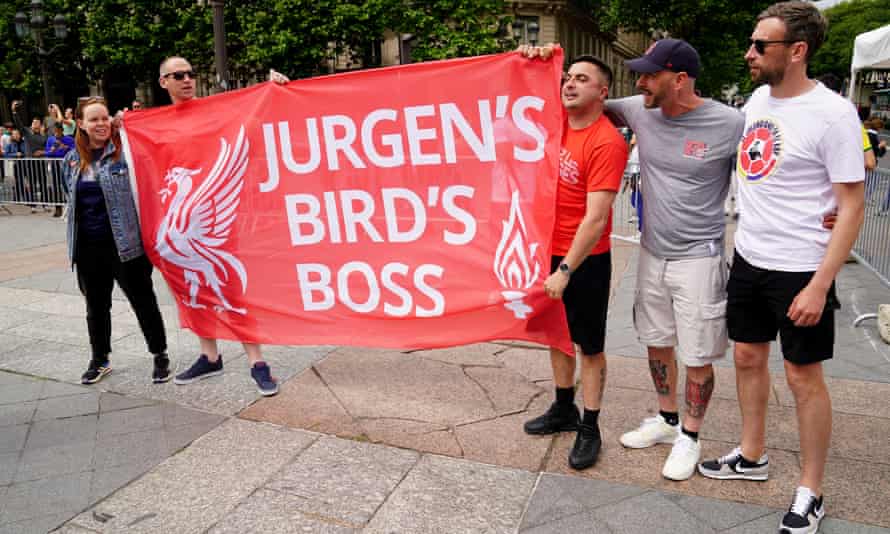 And I'm writing all the nonsense below while I'm a huge Harrison fan. But in terms of status these days, I think it's fair to think of it as the Beatles' FA Cup.
I was trying to figure out how Liverpool's season should be rated if they a) win b) don't win the Champions League. And I think I nailed it with this…
Imagine it's the 1970s and you get wind that the Beatles might be reforming. The story just won't go away and on the fringes of their comeback concert in Paris, there's a very real thought that this is going to fucking happen. Great.
A week earlier, John Lennon retires. Damned. It's not the complete Fab Four, but that could still be something special. So if you're still following, these are the two options left.
1/ Paul McCartney, George Harrison and Ringo Starr perform in Paris. Sure, the foursome would have been nice, but what a concert for three!
2/ Macca also withdraws. George and Ringo play some songs. It's good, but there's a sense of what could have been.
Just to hammer (Maxwell's Silver) the point home:
John = Premier League
Paul = Champions League
George = FA Cup
Ringo = carabao chalice
My feeling is that Liverpool need a Paul or a John to make this season unforgettable. Otherwise it's a bit of a disappointment.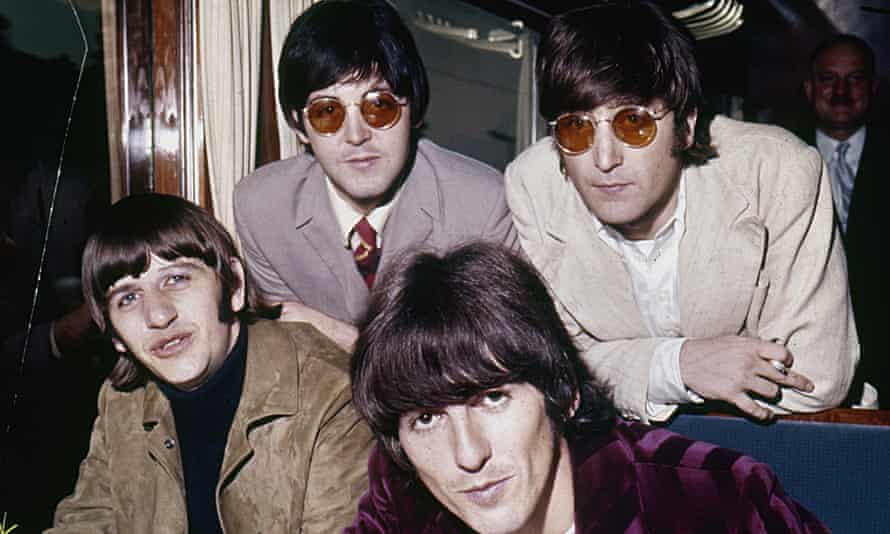 Staying on the subject of left-backs, here are the Champions League final thoughts from one of the best – Philipp Lahm.
The Germany defender, who won the cup with Bayern Munich, gives us the facts in his exclusive column here.
By a clean-shaven man with glasses and lots of teeth to a bearded man with no glasses and much whiter teeth. Great article here by Sachin Nakrani taking a season-by-season look at Jurgen Klopp's tenure at Liverpool.
Featuring the two players at the 15.45 BST Liverpool press conference Jurgen Klopp will be Andy Robertson and Trent Alexander-Arnold.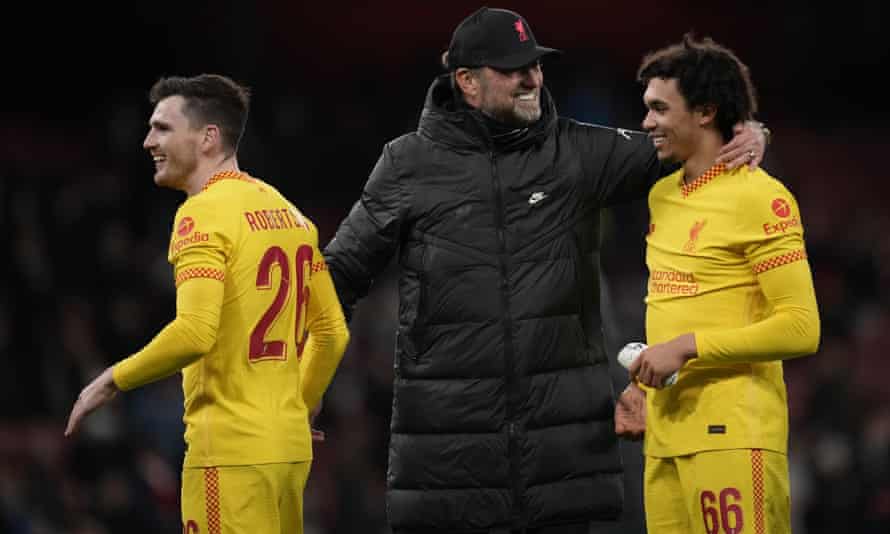 It all builds on the Reds' current left-back Robertson scoring the winner in Paris, doesn't it? Unless, of course, FA Cup final hero Kostas Tsimikas again converts the winning penalty in a penalty shoot-out, as Alan Kennedy did in the 1984 European Cup final in Rome.
Email from Richard Beniston: "Is it just me or is there a nun enjoying a drink in this picture? [10:58am] in the Kop bar? I wonder if she's there to support James Milnun and VirginMary Van Dyke?" Nun Puns. It's a habit we need to break.
Speaking of goals in the European Cup/Champions League final in Paris, former Reds left-back Alan Kennedy was a busy man reminiscing this week. Despite being told by Bob Paisley that "they shot the wrong Kennedy", old Barney Rubble was something of a magical presence for Liverpool after a poor debut for Liverpool in the final and of course he beat home the winners against Real Madrid in 1981.
A few things to note. Firstly, Liverpool didn't have a throw-in coach back then, but this is certainly a contender for one of the best goals scored by one. Kudos to Ray Kennedy for his quick thinking.
Secondly, that breath of fresh air from the Madrid defender! Rafael Garcia Cortes was his name. It probably didn't have a flag that said "Spain". Golf. Madrid." What was the 36-handicapper thinking? The repetition behind the goal looks 20 times worse.
Former Liverpool and Real Madrid star Steve McManaman has a foot in both camps and is chatting with Louise Taylor here.
He also knows a thing or two about scoring a Champions League final goal in Paris. That was beauty: his bouncing volley in the 67th minute that gave Real Madrid a 2-0 lead and was on the way to a 3-0 win over Valencia in 2000.
Toni Kroos (the German man, not the Colombian dog), Luka Modric and Casemiro will be the starters in midfield for Real Madrid in Paris.
It means Eduardo Camavinga will be back on the bench but Jonathan Liew says Liverpool must be extremely careful with Madrid's supersub, who has played a key role in their run to the final.
Fans are already gathering in Paris. That was yesterday. Calm down boy.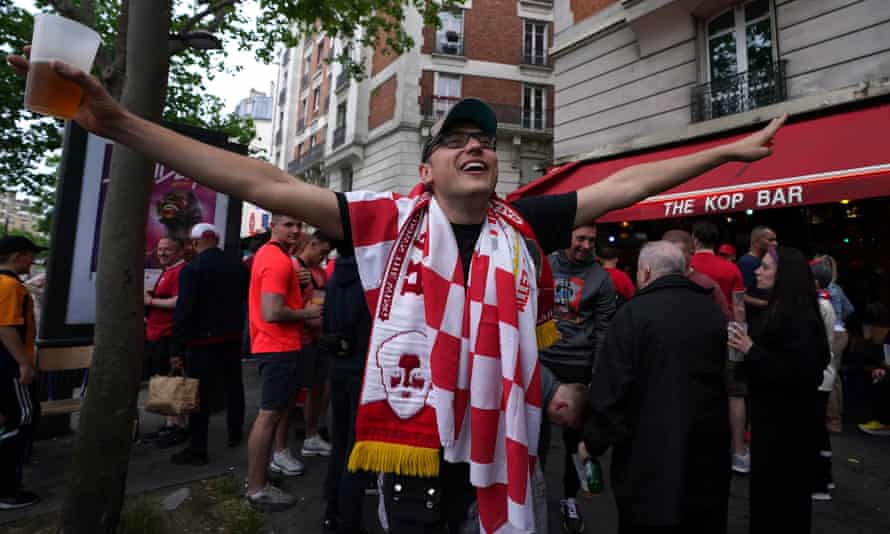 Liverpool's new star, Luis Diaz, was formed and forged on the streets of Barrancas and his traces in the city are evident. This is a wonderful piece about the origins of the Colombian by Iñigo Alexander. The pictures are great too.
And, can that really be true, the Diaz family's dog is called Toni Kroos!
Uefa has been criticized by disabled fan groups about the number of wheelchair-accessible places Champions League final on Saturday.
Paul MacInnes reports that Liverpool and Real Madrid fans will have 76 wheelchair spaces available at the Stade de France, despite the stadium listing 550 wheelchair-accessible spaces.
Real Madrid goalkeeper Thibaut Courtois has made 50 saves in the Champions League this season, more than any other goalkeeper. Liverpool's Alisson is in 13th place with 14 stops. This can of course be interpreted in two ways.
Without a doubt, Courtois was worth his weight in gold during Madrid's insane road to the final.
Our man in Madrid, Sid Lowe, looks at the impact of the Belgian stopper.
Liverpool's team selection should be simple: choose Ibrahima Konaté and 10 others. Why? The Frenchman has played 28 times for the Reds since joining from RB Leipzig last summer and has never lost. Andy Hunter interviews the centre-back, who grew up on a council estate less than 10km from the Stade de France.
Karen Carney looks ahead to the Champions League final and says Luis Diaz has to start for Liverpool. She also has praise for two other stars being shown in Paris.
Liverpool strikers have impressed all season but their most important player is Virgil van Dijk. He is her most valuable asset. Salah, Mané and Thiago deserve a lot of praise, but if I were to take a player from the Liverpool team, I would take Van Dijk. He needs to be at his best because Liverpool need to keep Karim Benzema calm. When I saw Real Madrid at Chelsea, it was a one-man Benzema show. He's the best player I've seen live in 18 months.