MESSAGES | FEATURES | PREVIEW | EVENTS
By Bob Makin
originally published: 05/27/2022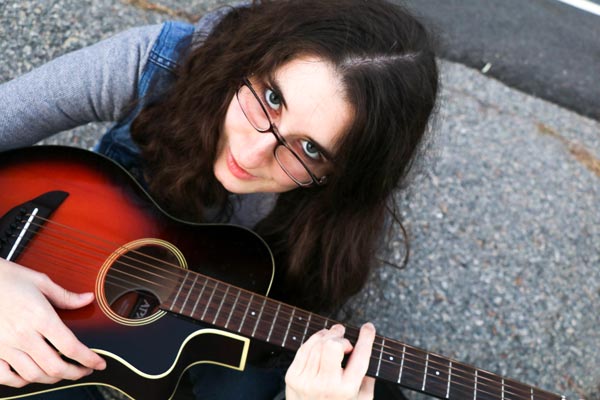 The lyric video for "Broken Heart," the title track from North Jersey singer-songwriter Amanda Rose Riley's upcoming LP, premieres on the New Jersey Stage as Makin Waves Song of the Week. PHOTO BY NICOLE ELIZABETH RILEY
Prolific North Jersey singer-songwriter Amanda Rose Riley will release her fifth studio album in as many years on June 3rd.
"Broken Heart," the title single, is the Makin Waves Song of the Week.
As the Makin Waves Song of the Week, Broken Heart can also be heard on Radio Jersey on May 27 between 6pm and 8pm ThePenguinRocks.com. Also, if you miss it, you can always tune in to The Penguin's archive or at Mixcloud.
With five albums and a live collection in the midst of a two-year pandemic, Amanda Rose obviously doesn't believe in waiting to make a dream come true. She's the kind of artist who records albums in her bedroom when she can't afford a studio, adheres to a strict weekly live-streaming schedule for two years, and takes a guitar with her on every trip she takes, just for in case there is an open mic or other occasion.
Advertise with New Jersey Stage for $50-$100 per month. Click here to get more information
---
"Broken Heart" is one of seven uncompromisingly intense songs about unrequited love included on the forthcoming album.
"This was definitely the track I was most proud of from the start," said Amanda Rose. "It's easy in a lot of ways because it doesn't involve too many different lyrics or chords, but I tried to make it interesting and different in structure and what limited production I was working with – just vocals and acoustic guitar."
Amanda Rose said she writes constantly and has taken on several songwriting challenges, such as one song a week for a year or 50 songs in 90 days.
Her forthcoming LP took her in a different musical direction, she said.
"I write a lot of songs about my relationship with music and chasing my dreams because it takes a lot of time and emotion," she said. "'Broken Heart', on the other hand, is a collection of uncompromisingly intense songs about unrequited love. There are so many relationship and breakup albums out there, but not so many about unrequited love. There seems to be a cultural belief that unrequited love isn't "real" love, and we shouldn't think too much about it, we don't need to talk about it, we don't need to care about people going through it the way we do it for them would do to someone who has gone through a breakup. That if you want someone who doesn't like you, you should just get over it. Something you can't really have feelings for someone until you are in a relationship with them. That's just not true. You can have very intense romantic feelings toward someone who doesn't like you, especially if it's someone you know fairly well. No emotional experience should be considered more valid than another."
Amanda Rose's hard work and determination has resulted in opportunities such as performing with The Bouncing Souls at the Stone Pony in Asbury Park and on several occasions with her favorite artist, Frank Turner.
Next up is May 28th at Daddy Matty's, Madison; June 1st, Playthrough of the Broken Heart Virtual Album and Live Stream weekly, Facebook & Instagram; June 3, "Broken Heart" virtual listening party; 4 June, Passaic County Book Festival, Weasel Brook Park, Clifton; June 10, The Fine Grind, Little Falls; June 12 and July 24, Wayne Museum, Wayne; 18 June, Boonton Farmers Market, Boonton; June 24, Sushi Cafe, West Caldwell; July 8, Seven Tribesmen Brewery, Wayne; July 29, The Fine Grind, Little Falls; and July 30, Great Divide Campground, Newton.
For more information, see amandaroseriley.com.
Bob Makin has been producing Makin Waves since 1988. Follow Makin Waves on Facebook and contact Bob at [email protected].