The following is from AFT Washington:
SEATTLE — Join AFT Washington's Human Rights Committee on Human Rights Day on Saturday, December 10 for "Fighting Reproductive Rights Protection and Organizing in the Current Environment!" This conversation about reproductive rights protection, Workers' rights and the right to education will take place from 10 a.m. to 11:30 a.m. via Zoom. Sign up here.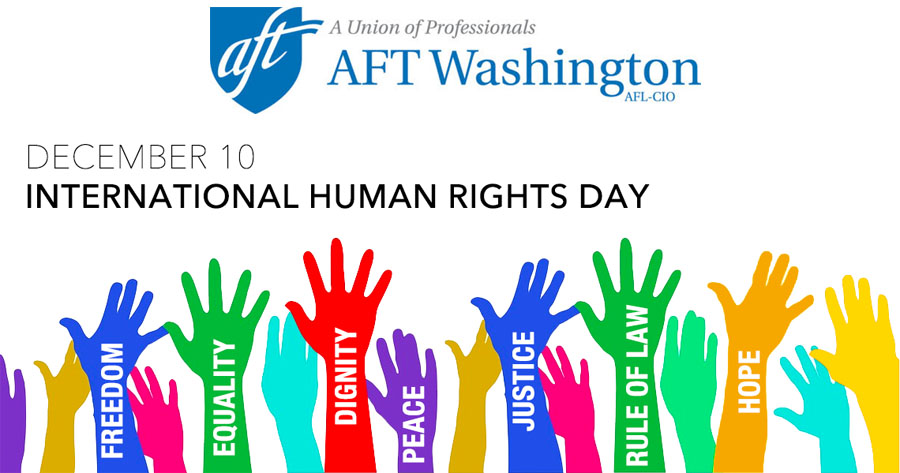 As members of AFT Washington's Human and Civil Rights Committee watched the Supreme Court make decisions, it became clear how important it is to create space to recognize and strategize how we fight back to defend and advance our human rights.
International Human Rights Day is December 10th and is an opportunity to come together in solidarity. Reproductive rights, labor rights and the right to education enshrined in the International Declaration of Human Rights are not guaranteed and some interest groups are actively trying to take them away from us.
Join AFT Washington for discussion and inspiration for action on ways to affirm and protect our rights, and the importance of continuing the fight even in an unwelcome legal and political climate. Speakers include:
Maria Le Nguyen, who is the first Executive Director of Color in the 40-year history of the Washington Community Action Network (Washington CAN). Her lineage includes her grandfather, who fought under Ho Chi Minh during the French occupation, where his resistance resulted in the family home being burned down and he was imprisoned. Mary has been organized in the labor and reproductive justice movements for over 10 years and has been a waitress for almost 20 years. Mary holds an MA of Arts in Policy Studies from the University of Washington.
Rigoberto Valdez Jr. is currently on loan to MLK Labor to coordinate the President's organizing initiative (a partnership of national unions, the AFL-CIO and local labor movements to test new external organizing strategies). He is a member of the UFCW 3000. For more than 27 years, Rigo has dedicated his life and career to organizing workers. Currently, Rigo is President of UFCW United Latinos, Founding Member and Board Member of OUTreach (UFCW LGBTQ+ Caucus), Board Member of the Coalition for Humane Immigrant Rights Los Angeles (CHIRLA), serves on the National Executive Board of LCLAA (Labour Council for Latin American Advancement) and is the officer in charge of the Los Angeles County Immigrant Protection and Promotion Task Force.
Xochilt Lopez, who emigrated from Jalisco, Mexico, in 2009 in search of a better life. Xochilt has three children. While working at a packhouse in Yakima, Xochilt decided to improve her English and get a degree so she could pursue a career and help the community. She received her associate's degree from Yakima Valley Community College and is currently pursuing her bachelor's degree. While at the YVCC, Xochilt founded a student club, Connection Bridge, to help students navigate the college. She also started working as an organizer at the Alliance for a Just Society and the Coalition Communities for Our Universities. She reaches out to prospective students, current students, and parents to rally them in the fight to have a free community college and the support anyone pursuing a degree needs to complete it.
All are invited to visit the AFT Washington website to register for this December 10 event: https://leadernet.aft.org/webform/human-rights-day-2022-registration