The countdown to kickoff against Louisiana-Monroe is on and the Texas Longhorns are officially 98 days away from Steve Sarkisian's roster stepping onto the field for the 2022 season.
Our journey through the number 98 in Texas begins with the former Nagurski Trophy winner, Lombardi Trophy winner and four-time professional bowler from Houston Lamar High School Brian Orakpo.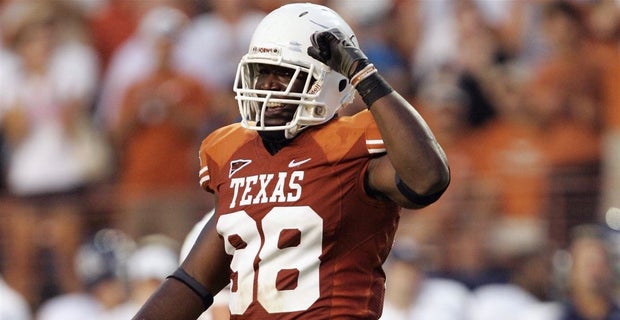 During his collegiate career, Orakpo recorded 132 tackles, 22 sacks, 38 tackles for loss, 62 pressings and six forced fumbles. As a senior in 2008, Orakpo put together one of the best defensive seasons in Texas football history, winning the Nagurski and Lombardi trophies along with Big12 Defensive Player of the Year and first-team All American Honors.

Picked 13th in the 2009 NFL Draft by the Washington Redskins, Orakpo played ten years in the league before retiring with 396 tackles, 66 sacks, 12 forced fumbles and four Pro Bowl selections.
Another All-American defenseman who shares the 98 with Orakpo is Fairfield's Tony Brackens.
"He was a three-time All-Southwest Conference nominee in 1995 and a 1995 defensive All-American. He was also a member of the American Football Coaches Association's Good Works team in 1995 because of his commitment to the community off the field. He played a major role in leading Texas to the final Southwest Conference Championship, a 10-1 regular season in 1995 and a Bowl Alliance berth in the 1996 Nokia Sugar Bowl. He was a 1996 second round draft choice for the Jacksonville Jaguars and played his entire eight-year NFL career with Jacksonville, where he received Pro Bowl recognition in 2000. He was known as one of the fastest longhorns, conceding five fumbles in his 1995 finals season. He was career-credited with 24 sacks, which ranked eighth among all longhorn defensemen at the time. He retired from professional football after the 2003 season and now lives with his family on a ranch near his hometown of Fairfield."
What's next for the Longhorns? Stay up to date and sign up with Horns247 today! New Members get 30% OFF their first year of Texas Insider Scoop OR one month of Horns247 VIP access for just $1!

The final 98 for today is the current Texas Longhorn defensive end and the former Katy Tiger Moro Ojomo.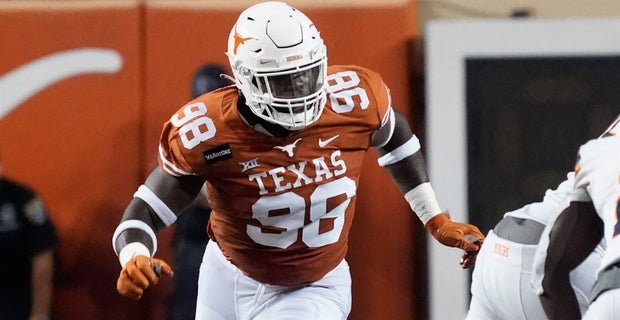 "A fifth-year defenseman who has played in 38 career games and made 25 starts … made his debut in 2018 against No. 12 West Virginia … was named to the Academic All-Big 12 First Team in 2020 and 2021 … . a six-time member of the Big 12 Commissioner's Honors Roll (Spring 2019, Fall 2019, Spring 2020, Fall 2020, Spring 2021, Fall 2021)…was a two-time All District honoree in high school. Earned as Junior Ojomo All-Big 12 Honorable Mention…played in all 12 games and started all 12 games…recorded 29 tackles (17 solo) with three tackles for loss, three quarterback hits and one PBU."
The Texas Longhorns kick off the 2022 season on September 3 at Royal-Texas Memorial Stadium when they host Louisiana-Monroe at 7 p.m. on the Longhorn Network.