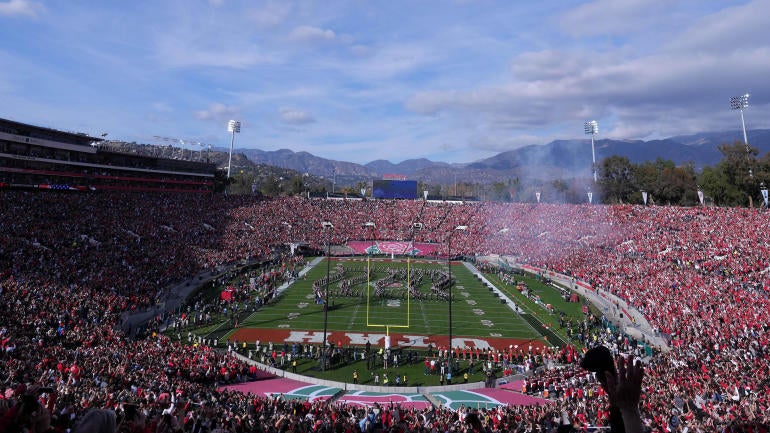 USA Today sports images
The full college football bowl schedule for the upcoming 2022 season was released Thursday and will feature 43 competitions spread over three weeks in December and January. The action begins December 16 with the Bahamas Bowl and continues through January 9 when a national college football playoff champion is crowned at SOFI Stadium in Inglewood, California.
Notable for the early schedule is a packed seven-game schedule on Saturday, December 17th. Since New Year's Day falls on a Sunday, no bowls are scheduled for January 1, which makes for an odd quirk on a day that's usually important in college football's postseason. Instead, New Year's Eve and January 2nd will be some of the biggest dates this postseason.
Both CFP semifinal games — the Peach Bowl and Fiesta Bowl — are scheduled for December 31, while the Cotton Bowl, Citrus Bowl and Rose Bowl will be played on January 2. Bowl participants will be announced on Sunday, December 4th after the conference's championship games have been decided.
CBS will again broadcast the Sun Bowl on December 30 in El Paso, Texas.
Below is the entire bowl game schedule with dates, times and network affiliations. All information about bowl games is subject to change. All times are Eastern.
2022-23 college football bowl schedule
College Football Playoff
January 9th

National Championship
Inglewood, California

open (ESPN)

encounters in the semifinals

Dec 31

Peach Semifinals
Atlanta, GA.

4 or 8 p.m. (ESPN)

open minded

Dec 31

Fiesta Semifinals
Glendale, Ariz.

4 or 8 p.m. (ESPN)

open minded
Selection Committee Bowling Games
Dec 30

orange
Miami, Fla.

7:30 or 8 p.m. (ESPN)

ACC/ND vs Big Ten/SEC

Dec 31

sugar
New Orleans, La.

Midday. (ESPN)

SEC vs. Big 12

January 2nd

rose
Pasadena, California.

5 p.m. (ESPN)

Big Ten versus Pac-12

January 2nd

Cotton
Arlington, Texas

1 p.m. (ESPN)

At Large vs. At Large
Other bowl games
TBA
Vacation
San Diego, California
TBD (fox)
Pac-12 vs ACC

January 2nd
citrus
Orlando, Fla.
1 p.m. (ABC)
Big Ten vs. SEC/ACC/Notre Dame
January 2nd
Tampa Bay
Tampa, Fla.
Noon (ESPN2)
SEC versus Big Ten
Dec 31
city ​​of music

Nashville, Tennessee.

noon (ABC)
SEC vs. Big Ten/ACC/Notre Dame
Dec 30
Arizona
Tucson, Ariz.
4:30 p.m. (bar stool)
Mountain West vs. MAC
Dec 31
TaxSlayer
Jacksonville, Fla.
3:30 p.m. (ESPN)
SEC vs. Big Ten/ACC/Notre Dame
Dec 30
Tony the tiger
El Paso, Texas.
2 p.m. (CBS)
ACC/Notre Dame vs. Pac-12
Dec 30
Mayo of the Duke
Charlotte
noon (ESPN)
ACC/Notre Dame vs SEC
December 29th
alamo
San Antonio
9 p.m. (ESPN)
Big 12 versus Pac-12
December 29th
Cheez It
Orlando, Fla.
5:30 p.m. (ESPN)
ACC/Notre Dame vs. Big 12
December 29th
pinstripes
new York
2 p.m. (ESPN)
ACC/Notre Dame vs. Big Ten
December 28th
Texas
Houston, Texas.
9 p.m. (ESPN)
Big 12 vs. SEC
December 28th
freedom
memphis
5:30 p.m. (ESPN)
Big 12 vs. SEC
December 28th
military
Annapolis, Md.
2 p.m. (ESPN)
ACC/Notre Dame vs Americans
December 27th
Phoenix
Phoenix, Ariz.
10:15 p.m. (ESPN)
Big 12 versus Big Ten
December 27th
Birmingham
Birmingham, Ala.
3:15 p.m. or 6:45 p.m. (ESPN)
SEC vs Americans
December 27th
First answerer
University Park, Texas.
3:15 p.m. or 6:45 p.m. (ESPN)
American/ACC/Big 12
December 27th
camellia
Montgomery, Ala.
noon (ESPN)
MAC vs Sunbelt
December 26th
fast lane
Detroit, Mich.
2:30 p.m. (ESPN)
Big Ten vs MAC
December 24th
Hawaii
Honolulu, Hawaii
8 p.m. (ESPN)
Mountain West vs. C-USA/Americans
23rd of December
gas parilla
Tampa, Fla.
open (ESPN)
American/ACC/Notre Dame/SEC
23rd of December
independence
Shreveport, La.
open (ESPN)
C-USA vs Army
December 22
Armed Forces
Fort Worth, Texas.
7:30 p.m. (ESPN)
American vs. C-USA
21 Dec

New Orleans
New Orleans, LA.

9 p.m. (ESPN)
Sun Belt vs. C-USA
20 Dec
Boca Raton
Boca Raton, Fla.
7:30 p.m. (ESPN)
American/C-USA/MAC/Mountain West/Sun Belt
20 Dec
Famous Idaho potato
Boise, Idaho
3:30 p.m. (ESPN)
Mountain West vs. MAC
19 Dec
Myrtle Beach
Conway, SC
2:30 p.m. (ESPN)
American/MAC/Sunbelt
December 17th
Frico
Frisko, Tex.
9:15 p.m. (ESPN)
American/C-USA/MAC/Mountain West/Sun Belt
December 17th
Las Vegas
Las Vegas, Nev.
7:30 p.m. (ABC)
Pac-12 vs SEC
December 17th
rental tree
Mobil, Al.
5:45 p.m. (ESPN)
MAC vs Sunbelt
December 17th
Jimmy Kimmel LA
Inglewood, California
3:30 p.m. (ABC)
Pac-12 versus Mountain West
December 17th
New Mexico
Albuquerque, New Mexico
2:15 p.m. (ESPN)
American/C-USA/Mountain West
December 17th
far away
Boston, Mass.
11 a.m. (ESPN)
ACC/Notre Dame vs Americans
December 16th
cure

Orlando, Fla.

3 p.m. (ESPN)
American/C-USA/MAC/Mountain West/Sun Belt
December 16th
Bahamas

Nassau, Bahamas

11:30 a.m. (ESPN)
C-USA vs MAC